So this Sunday the granddaddy of them all turns 31 years all. And rather than being the showcase of the immortals, it seems like it's the showcase of the meh. In turns this could be one of the most memorable Wrestlemanias of all time, but for all the wrong reasons. Will Vince – who says he is always for the fans – actually push Roman Reigns to the top of the card? Or will it not be dumped on from a great height? All will remain to be seen, but I cannot say I'm looking forward to Sunday. I'll be honest, I'm more looking forward to the final of Only Connect the next day, but nevermind.
So, without further ado, here are our Wrestlemania 31 Predictions.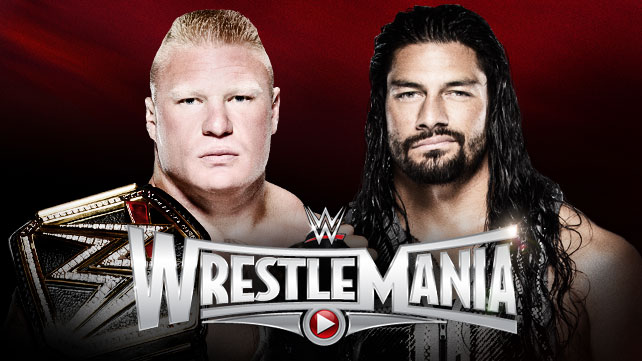 WWE World Heavyweight Championship
Brock Lesnar (c) vs. Roman Reigns
This can't close the show, can it?
Probably the most lackluster main event in the history of Wrestlemania features Brock vs Roman with nobody seeming to care. Roman Reigns has been pushed in the most embarrassing way possible, with everybody seeming to push that he's ready. In short, the crowd simply don't care. This is worse than Batista heel heat, it's can't be botheredness. Reigns has been planned this spot for the past year, and – well – it clearly hasn't worked.
Brock Lesnar did resign recently so there may be talk on keeping the belt on him. However, I'm not 100% convinced they will go with it. Maybe a heel turn for Reigns in doing so.
Prediction: Roman Reigns Wins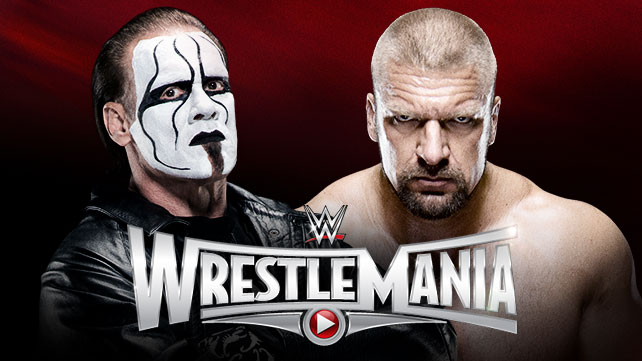 Sting vs. Triple H
One match that I could see being snuck on last is this match, between Sting in his first WWE match and Triple H. This has more of a main event feel, and I just think this one could possibly be one of the better matches on the card.
Two icons of the industry going head to head in a WCW – vs – WWE kind of match, it'll be something to see Sting in a WWE ring for the first time, and for that it makes this match a spectacle. As such, I cannot really see Sting losing his first match in the big league. Sting to win for me.
Prediction: Sting Wins
United States Heavyweight Championship
Rusev (c) vs. John Cena
Another great feud in the build up has been the match for the US Title, with Rusev once again being a stand out performer in the past year. He's taken a one-dimensional heel that what patriotic heels are and turned it into a hell of a gimmick. He's been protected, but boy has he put on some great matches.
With Cena opposite him, I can see him taking the belt, and restoring some more credibility to the lower championships. This is a good thing, particularly as if Brock stays he won't be on TV much. Ideally you want the IC/US titles to be built up a bit more. As such, giving the belt to Cena can help that build up again.
Well done to Rusev though, with a great run.
Prediction: John Cena Wins
Intercontinental Championship Ladder Match
Bad News Barrett (c) vs. Daniel Bryan vs. Dean Ambrose vs. Dolph Ziggler vs. Luke Harper vs. R-Truth vs. Stardust
Another fascinating match is the Intercontinental Title match, and is a match that has "Steal the Show" written all over it. Bryan has been added to this match in the same vein that John Cena has been added to the US Title match, to hopefully give credibility to the title.
As such, I can see Bryan leaving with the belt. It should keep the Yes Men relatively happy for a while, and if Lesnar isn't around for a while, I can see him & Cena headlining PPV's for a while, and I won't be too disappointed with it.
Prediction: Daniel Bryan Wins
Undertaker vs. Bray Wyatt
Now this is interesting.
Bray Wyatt has been carrying this feud for a while, with absolutely no sign of the deadman, and has done a fantastic job of building interest (as much as a Wrestlemania match featuring the Undertaker will be built up). Undertaker has been quiet, and Bray has been superb.
As such, I'm tempted to go for a Bray Wyatt win. I feel this could be a real passing of the torch. The streak is no more, and I am tempted to say that Taker will retire this event next year. So
Prediction: Bray Wyatt Wins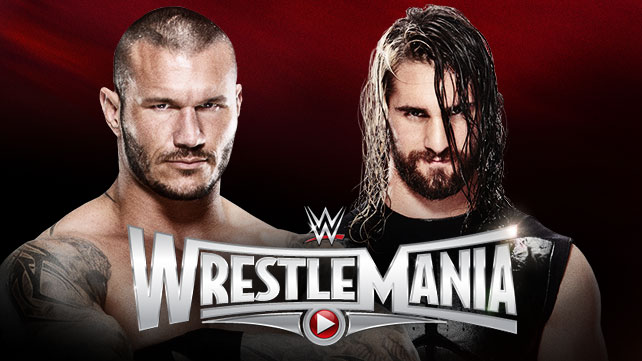 Randy Orton vs. Seth Rollins
This is one of those matches that would semi main event any other Pay Per View, but I can see this match being lost in the shuffle a little bit, with this being somewhere in the first hour or so in the show. Sad, really, as both these have been superb recently.
The build up has been a bit quiet recently, so I'm not sure who should win. I guess Orton would make sense, to end the rivalry, and Rollins should be pushed to the moon following this.
Prediction: Randy Orton Wins
AJ Lee & Paige vs. The Bella Twins
So recently, another nice development has been that they're giving Divas an actual chance, with matches going over 3 minutes – including a match between Nikki Bella & Paige going 20 minutes at a house show. 20 minutes! So I hope if nothing else, this gets time.
AJ & Paige seems to be the favourite in the early markets, but I just feel that the Bellas are more likely to win. Paige has become the new Alberto Del Rio in snatching defeat from the jaws of victory. The story of The Bellas being on the same page and AJ & Paige not being makes more sense.
Prediction: The Bella Twins Win
Andre The Giant Memorial Battle Royal
So the annual Andre The Giant Memorial Battle Royal is actually annual, with this trophy having some fairly big names, with some people who should actually be in their own match (such as Goldust & The Miz). I believe the possible favourite and somebody to make an impact will be the individual who wins the NXT Tournament will be most likely, but from RAW, they did seem to push Ryback as the favourite. As such, he seems like the best shout. I'm tempted to go for Ryback to win.
Prediction: Ryback Wins
WWE Tag Team Title Match
Tyson Kidd & Cesaro (c) vs. The Uso's vs. Los Matadores vs. The New Day
And the final match is the pre show match, with four teams going for the title. I've no idea on this one, so I'll go for Tyson Kidd & Cesaro to keep the belts.
Prediction: Tyson Kidd & Cesaro Wins
Anyway, these are my predictions, what are yours? Please leave your thoughts in the comments!