Right then, lets get this out of the way. This is the WWE TLC Pay per view, but with the daftest name thanks to an added match (which we will get onto later). For the purposes of this site.
So this month has been fascinating, largely with events off the screen. With CM Punk posting two absolutely fascinating podcasts on The Art of Wrestling, and a Vince McMahon podcast on the not-in-the-UK WWE Network (with it coming on the Steve Austin Show this Tuesday), Punk – although opinionated – didn't seem to get a fair crack of the whip in WWE. All this has overshadowed the fact that the TV after Survivor Series has been okay. Certainly it's been more fascinating off screen.
Nevertheless, there does seem to be a good build up to the PPV, so here's my predictions.

TLC Match
Dean Ambrose vs. Bray Wyatt
So, going on how the show is structured and how it is being presented, I can see this being the main event.
This has had much more build up than their Survivor Series encounter, and as a result it's ended up being one of the highlights of the last few weeks, with Ambrose destroying Wyatt's chair being probably one of the stand out moments, and provided a nice visual.
It has also saw Bray appear weak. Not weak as in jobbing to Cena, but weak as in he's lost his mystic power. With that, I can see Ambrose picking up the win here.
Prediction: Dean Ambrose Wins
Tables Match
John Cena vs. Seth Rollins
So this feud has been going on, with the dismantling of Team Authority at Survivor Series, the captains are feuding still, with the introduction of a Table Match.
This match could see the culmination of the feud, and I feel that – whilst TLC has been the PPV whereby traditionally young stars emerge victorious – I can see Cena win this. Two reasons.
Firstly, the stipulation is that if Cena loses he loses his title shot. With Lesnar probably coming back to end the Lesnar/Cena feud at The Royal Rumble, having Cena in a title match keeps him out of the Rumble.
Secondly, Randy Orton is scheduled to come back soon, so he could interfere with this match, costing Rollins the match, meaning that The Architect still looks strong against Cena. That can kick off a feud between the two, that could conclude at Wrestlemania.
Prediction: John Cena Wins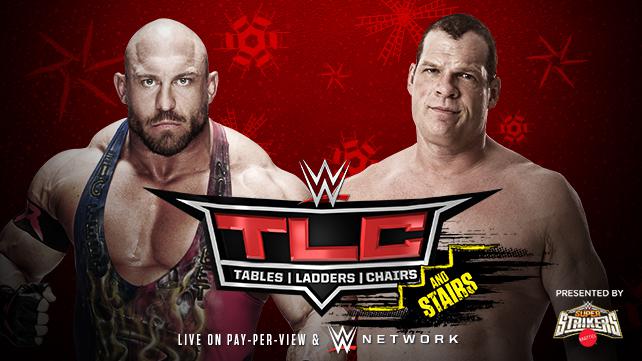 Chairs Match
Ryback vs. Kane
So Ryback has had an interesting month.
From being one of the focus points of the Survivor Series build up, to being crucified on CM Punk's podcast. Ryback has been rumoured to have been depushed a little bit, whatever happens, he's feuding with Kane.
A win for Kane does nothing, so I feel that Ryback should win.
Prediction: Ryback Wins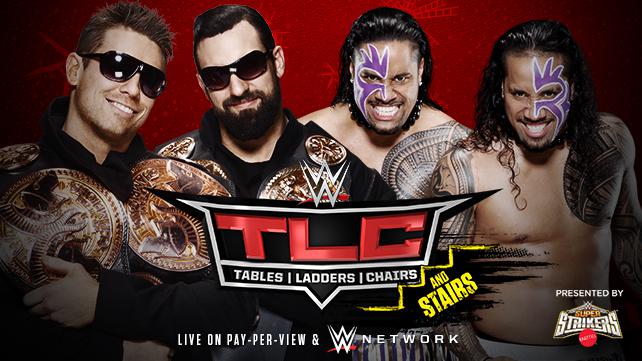 WWE Tag Team Title Match
The Miz & Damien Mizdow (c) vs. The Usos
So last month, the one thing keeping us from completing a clean sweep was The Miz & Mizdow picking up the win in the tag team title match. Since then, Damien Mizdow has been remarkably popular and getting over, and The Miz has been hitting on Naomi, making her relationship with Jimmy Uso known on TV I believe for the first time.
As the Miz & Damien Mizdow have been hot recently, I cannot see them losing here, and can see them retaining.
Prediction: The Miz & Damien Mizdow Wins

Stairs Match
Erick Rowan vs. Big Show
So the change in name of the Pay Per View is due to this match. With Big Show turning for the umpteenth time at Survivor Series. Rowan however has been on a bit of a run, becoming rather popular in probably the most surprising turn of the year.
Like the Ryback vs Kane match, a Big Show victory doesn't help anybody, with a white hot face at the moment, I can see Rowan picking up the upset victory.
Prediction: Erick Rowan Wins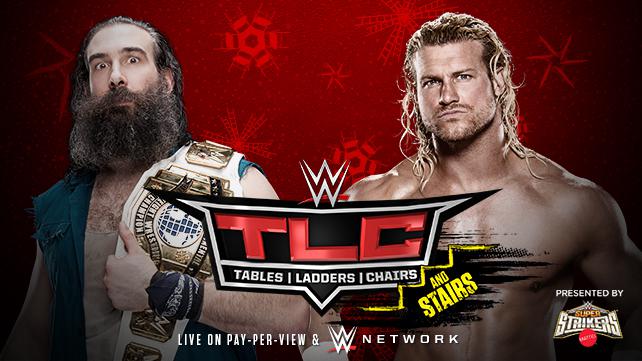 Intercontinental Title Ladder Match
Luke Harper (c) vs. Dolph Ziggler
And this is the toughest match to call.
Since becoming Intercontinental Champion, Luke Harper has faltered, with a weird roll up elimination at The Survivor Series main event, with Ziggler once again getting a bit of a push to the main event. I'm not sure if this is the time, but Ziggler probably deserves it, and had the performance of the night at Survivor Series.
I really cannot call it, Luke Harper maybe with some schenanigans to keep Ziggler from dropping down to the IC Title level after the performance of the card last month.
Prediction: Luke Harper Wins
United States Title Match
Rusev (c) vs. Jack Swagger
In the first of 3 matches that have been thrown together, a feud between Rusev and Swagger had been brewing, pretty much since Ziggler got put in the IC Title match.
They have good chemistry, but cannot see Rusev losing here.
Prediction: Rusev Wins
Divas Title Match
Nikki Bella (c) vs. AJ Lee
So this match will hopefully get a bit of time this time around, rather than the quick loss for AJ.
Again, it's something that has been thrown together, so I cannot see Nikki losing the title so quickly. Maybe a shenanigan DQ, but I'm going for a Nikki Bella win.
Prediction: Nikki Bella Win
The New Day vs Goldust & Stardust
On the pre-show, the much promised new faction "The New Day" goes up against Goldust & Stardust.
Sadly I can already see The New Day faultering, as the three performers needed a much stronger makeover than what has happened so far. Nevertheless, The New Day seem to be having some sort of push, so I can see them winning here.
Prediction: The New Day wins
Anyway, that are my predictions, what about yours? Please let me know what you think in the comments.