Urgh.
Well the final PPV of the year is upon us, and once again the build up has been disappointing. No dead brothers this time, oh no, instead we have Tater Tots. Because. You Know. Sheamus (the new champion) is Irish.
I cannot say I've been enthralled with the latest WWE TV offerings, which is a shame as I've been watching a lot of wrestling recently, with PCW, Progress Wrestling and NXT shows in the last 3 weeks alone. So I cannot claim to be watching it as much as I would like.
However, the WWE is predictable, and with the WWE TLC matches meaning that DQ's and Count Outs rarely count, I'm confident I can do well. So it could be a good betting market. As such, here's my WWE TLC 2015 Predictions.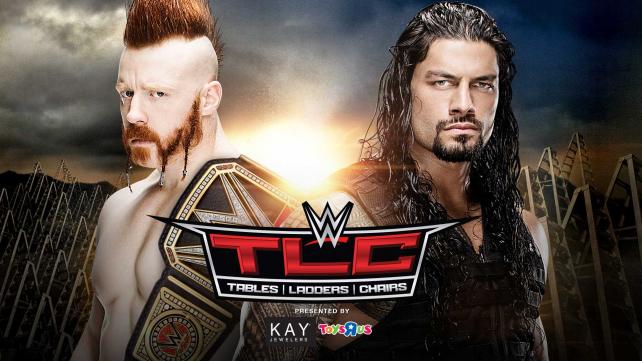 WWE World heavyweight Championship – TLC MAtch
Sheamus (c) vs. Roman Reigns
So Sheamus cashed in on Roman Reigns and the world goes mild.
It was so incredibly predictable, which sucks, but I could understand that they wanted to make Roman cheered because their champion is probably more hated.
It hasn't worked.
Sheamus has grown into his character, cut believable promos and generally been a lot better than his opponent. It's helped having his League of Nations, and it looks like he's having fun out there with his mates (and Del Rio). Reigns looks awkward and uncomfortable, and totally unconvincing. This lead to Reigns using the word "Tater Tots" to describe Sheamus.
Urgh.
Sheamus needs to get over as a champion, so I can see him winning it. It makes sense Regins to win it at the Rumble (he should not be anywhere near the Royal Rumble).
Prediction: Sheamus Wins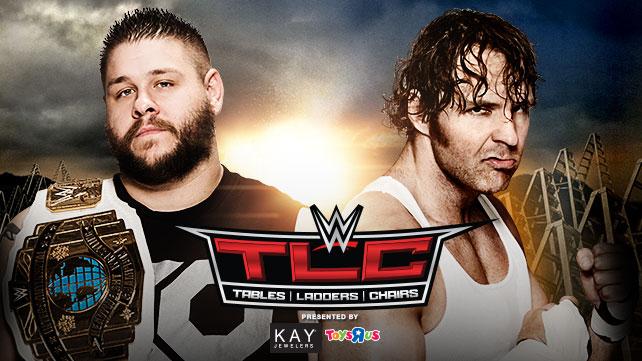 WWE Intercontinental Championship
Kevin OWens (C) vs. Dean Ambrose
So in WWE's "Brilliant" booking this match is a dream match and probably a Wrestlemania headline act sometime soon, but with two of the best talkers in the WWE right now haven't had a face to face. These two could keep people interested for 20 minutes, but there's been barely any interaction. So sad.
I'm going for Owens to retain. He's not ready to lose the championship yet, and I still, still hold small hope that Ambrose may be in the main event of Wrestlemania. So Ambrose will be in the Rumble as an outside shot.
Prediction: Kevin Owens Wins
WWE Tag Team Championship Match – Triple Threat Ladder Match
The New Day (C) vs The Usos vs The Lucha Dragons
So another small highlight, that is danger of becoming extremely over-exposed, is The New Day. They appear to be joining up with B.A.D. if Raw from last week is anything to go by, and had multiple appearances on Raw.
There will be jumping. There will be flipping. I am not sure who will win here. I'm going to say The New Day still will retain. Although they seem to like The Lucha Dragons, but The New Day is so far ahead of everybody I cannot see them lose the titles.
Prediction: The New Day Wins
WWE United States Championship Match – Chairs Match
Alberto Del Rio (C) vs Jack Swagger
So with the injuries as prevalent as they are, Jack Swagger has been thrust back into the US Title picture. It made a little bit of sense: Swagger had history with Zeb Coulter, but since this week they appear to have dropped the Del Rio/Coulter partnership. So this match appears to be a throwaway.
It would be nice if The League of Nations wasn't a quick throw together, and actually has substance, so I'm going for a Del Rio win.
Prediction: Alberto Del Rio Wins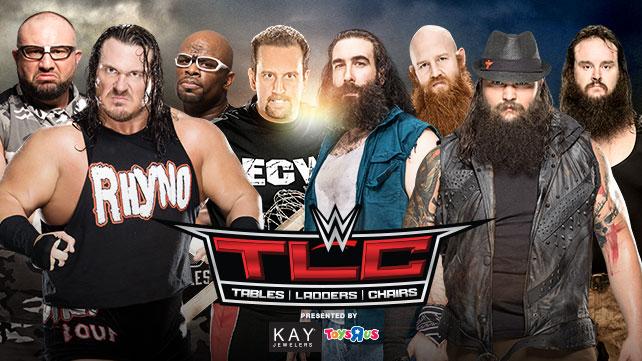 8-Man Elimination Table Match
The Dudley Boyz, tommy Dreamer & Rhyno vs. THe Wyatt Family
So they're going with an ECW storyline again.
Tommy Dreamer is back on the roster, supporting The Dudleys & Rhyno (who is the latest new face to be called up from NXT). They have been feuding with The Wyatt Family, and exchanging wins already.
The Wyatts need a win. After losing to Kane & The Undertaker and generally been cooled a lot since even the Summer. With Strowman on his team looking protected and impressive, I can see The Wyatts winning.
Prediction: The Wyatt Family Wins
WWE Divas Championship
Charlotte (C) /W Ric Flair vs. PAige
This has been a bit interesting, as they are slowly turning Charlotte heel.
In short, she's not connecting with the fans, with Becky Lynch being more popular of the PCB threesome, hell Paige has been more liked, as she slapped Flair she definitely got cheers. Charlotte seem to be doing more to win, including cheat.
I am tempted to say they will go for Charlotte vs Becky down the line, maybe at Wrestlemania. Who knows? As such, I can see Charlotte winning this.
Prediction: Charlotte Wins
Anyway, they are my predictions. What are yours? Leave your thoughts in the comments!