Happy November folks! With a seemingly long run since Hell in a Cell, we're now in November for the traditional Survivor Series! This is one of the traditional "Big 4", but recently this has been a bit of a poor PPV, with last year's being quite good, but generally it is bad.
This was billed as 25 years of the Undertaker, which was planned and he will be making an appearance at the event, but as well as this we had the unfortunate news that Seth Rollins tore his ACL, so he's out of action. Meaning we've had a tournament to crown a new champion, and with only one name in the tournament that is a former champion, it means we could get another name to add to the list of champions.
It was also the time for the tour of Europe, so we've had that also, and with The Undertaker making a rare appearance this side of the pond, it really whet our appetite. Admittedly, there has been a bit more sizzle than steak to this year's Survivor Series, but hopefully it will make it a little bit predictable. So without further ado, here are our WWE Survivor Series 2015 Predictions.

WWE World Heavyweight Championship Tournament – Final Four
Roman Reigns vs. Alberto Del Rio, DeaN Ambrose vs. Kevin Owens
Of course, the focal point of this PPV is the conclusion to the WWE Title Tournament to crown a new champion. The final four are Roman Reigns, Alberto Del Rio, Dean Ambrose & Kevin Owens.
From watching Raw live, it appears as though they are building up Roman Reigns as the champion, "overcoming the odds" to walk away with the gold. Whilst I don't like that story, it appears to be what is happening, as Roman is quite obviously not ready. A first round match with The Big Show bored the crowd in Manchester to tears, but a great match with Cesaro as well as a "show respect, LIKE HIM DAMMIT" moment after legitimised him a bit, but I don't think as much as they will like.
Nevertheless, I'm not sure how we can bet on this, but I'm going for a Roman Reigns win. It is obvious he is being groomed for the belt, and nobody else in the tournament really has any claim to become world champion, unfortunately. However, whilst I see Reigns winning the tournament, I don't see him necessarily leaving Atlanta with the gold.
I feel Sheamus could possibly cash in for a title run. It's a good time for there to be a champion that isn't the focal point (as pointed out last month), and now even more so. As such, I can possibly see Sheamus becoming a champion, but Roman Reigns to win the tournament.
Predictions:
Dean Ambrose to beat Kevin Owens
Roman Reigns to beat Alberto Del Rio
Roman Reigns to beat Dean Ambrose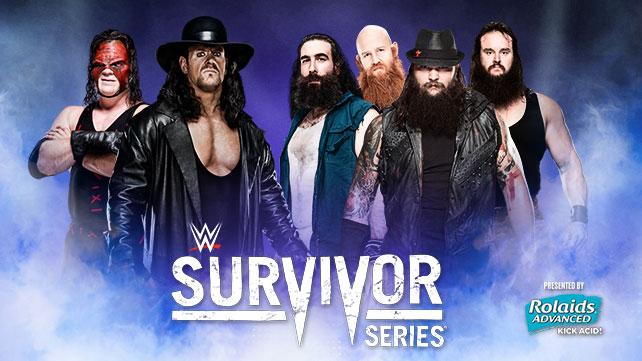 The Brothers of Destruction vs. BRay Wyatt & Braun Strowman
So, as announced on Smackdown (sorry spoiler alert), it appears as though Bray Wyatt & Braun Strowman will take on The Brothers of Destruction in a match at Survivor Series. Seeing The Undertaker live was a rare treat, and I can see the 25 years of The Deadman along with "Undertaker Week" in the run up to The Survivor Series was a massive selling point for The Network, celebrating one of the all time greats.
However, I can see them losing here.
Braun Strowman has been kept incredibly strong since his debut, and Wyatt is somebody that the WWE is keen on. With Kane in the match, he can take a loss (either directly, or causing The Undertaker to lose), leading to The Eater of Worlds remaining strong in the run up to Wrestlemania. If it was Harper & Rowan against The Brothers, the result will be different, but I cannot see WWE feeding two people they are high on for a legends pop. We will see what happens though.
Prediction: Bray Wyatt & Braun Strowman Wins
WWE Divas Championship
Charlotte (c) vs. Paige
Ugh.
It should've been the crowning moment of the "Diva's Revolution", two of the top divas being in the main event slot on the Go-Home Show. However, comments made by Paige (which were fed to her by a writer, and wasn't her) towards Charlotte about her brother Reid, who passed away 2 years ago, left a lot of people with a sour taste in the mouth.
It really didn't have the desired effect, instead of going "God we hate Paige!" we go "God, how can the writers be so stupid!".
Usually when WWE does an angle like this, a way to "make it all right" will be the wronged to win very convincingly. I cannot see Paige winning this match. Charlotte to win.
Prediction: Charlotte Wins
And that's been it! Only 3 matches have been announced so far (though the tournament is effectively 3 matches, meaning 6 matches in total). So this means my blog post is relatively short. What do you think will happen? Leave your thoughts in the comments!