So as well as NXT Takeover, the dearth of wrestling continues on Sunday with a new, four hour, Summerslam.
Yes, if there is any doubt what the second biggest show of the year is (sorry Royal Rumble, Survivor Series and Money in the Bank), the decision was made to increase the length of Summerslam from 3 hours to 4. Whilst there are a huge amount of matches, it doesn't feel quite as big as the Grandaddy of them all. Nevertheless, I think it's up there as one of the better cards WWE can put on at this time, with very few missing "big names".
This match is sold on one match: The Undertaker's return to face Brock Lesnar. I'm not sure if I quite like this yet, as Lesnar was getting over as a face. Nevertheless, they booked themselves into a corner which they had to get out of, and it will be a bit of a knock down, drag out match that hopefully is a lot better than their Wrestlemania match. But who will win? Here, with great trepidation, are my WWE Summerslam Predictions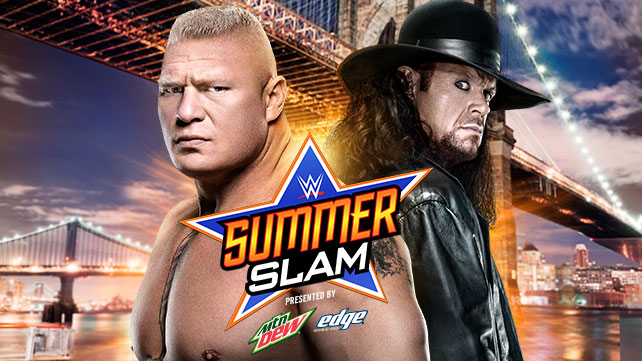 Brock Lesnar (/w Paul Heyman) vs. The Undertaker
Right then, lets look at this.
Vince & co are pushing the rematch from Wrestlemania 30 as the biggest match on the card to try and convince people that Summerslam is the big event of the summer. I'm really conflicted as I really don't know who will win.
On one hand, you want to keep Lesnar strong. He is more likely to be around this time next month, and he is an absolute beast, that losing will do nothing for him.
On the other hand, what if The Undertaker loses?
I'm tempted to say Lesnar, but just barely. Maybe have one last match at Wrestlemania 32 between the two which will be Taker's retirement match in his home state. I think I'd like to see that, and not only because I'm scheduled to be there. But bang goes Lesnar's babyface push.
Prediction: Brock Lesnar wins
WWE World Heavyweight Championship & United States Heavyweight Championship Match
Seth Rollins (c) vs. John Cena
Cena is once again back in the main event picture, against Rollins, and I don't think anybody minds. Of course, this match was in serious doubt following Rollins absolutely destroying Cena's nose in the build up to this match. This will be Cena's first match back from this, so they may decide to switch belts to keep it fresh.
With both titles on the line, it does seem to suggest a Money in the Bank cash in for Sheamus to get the WWE Title. But who will he cash in on? Logic suggest Cena, but maybe it will be Rollins? Rollins has been heel for a while, and has a moveset linked to being face. There is tension between him & The Authority, so maybe they decide to put the title on Sheamus instead?
Prediction: Seth Rollins Wins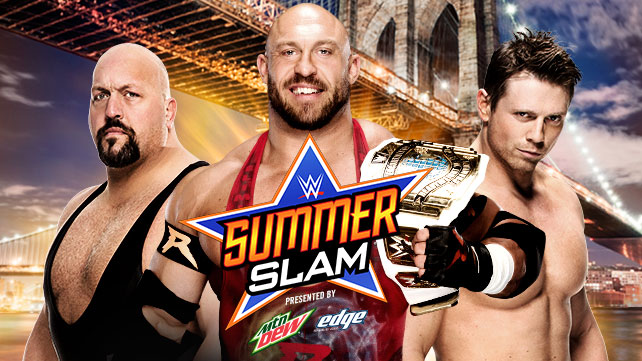 Intercontinental Championship Match
Ryback (c) vs. The Big Show vs. The Miz
So this match was pulled from Battleground after – ironically – Ryback had a staph infection. I guess they wanted to keep an eye on him since Punk's similar issues.
Instead we had a fun segment with The Miz berating the crowd and The Big Show turning again. Miz has been superb recently, so I can see him possibly winning. Ryback's reign as champion has been poor, and needs a win. If they decide to let him win, then this should be the match.
Prediction: Ryback wins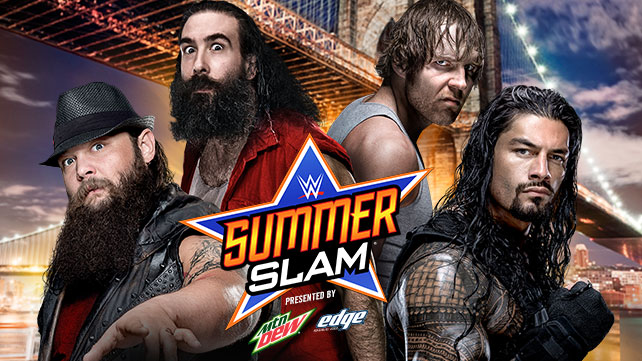 Bray Wyatt & Luke Harper vs. Roman Reigns & Dean Ambrose
So the Wyatt family is somewhat back together, with Harper once again teaming with Bray Wyatt. There are also rumours of a third Wyatt family member, with Rowan being out for the forseeable future. I have a horrible feeling it'll be Dean Ambrose.
Heel Ambrose is brilliant, no doubt about it. But I like the Reigns & Ambrose dynamic. Maybe I'm totally wrong, but I can see Ambrose turning heel here, with Wyatt & Harper winning.
Prediction: Bray Wyatt & Luke Harper wins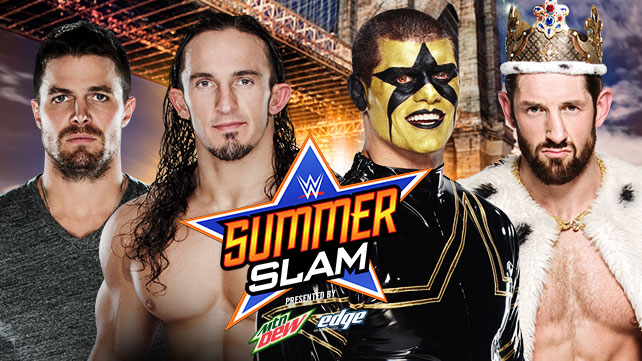 Stephen Amell & Neville vs. Wade Barrett & Stardust
So like Wrestlemania, there are some big names on the card. One of the more peculiar ones is Stephen Amell, star of Arrow, teaming up with another super hero Neville to fight another super villain Stardust and not a super hero in the slightest Wade Barrett.
There is no way Neville & Amell are losing this one, with Neville doing most of the heavy lifting and most of the work, with Amell doing the end of the match and probably picking up the victory.
Prediction: Stephen Amell & Neville
Kevin Owens vs. Cesaro
So I was wrong. Turns out Kevin Owens is working the entire weekend, with another match against Cesaro.
With the match the night before against Finn Balor, which promises to be physical encounter, I'm surprised at this match, which has potential to be the sleeper hit if given time.
They seem to like Cesaro finally, with the Cesaro Section becoming something, so I'm going to suggest a Cesaro win for this one.
Prediction: Cesaro wins
WWE Tag Team Championship Fatal Four Way
The Prime Time Players (c) vs. The New Day vs. The Lucha Dragons vs. Los Matadores
So, in Wrestlemania tradition, they appear to be stuffing the card, with a fatal four way match featuring four teams in the WWE Tag Title picture.
Of course, realistically Los Matadores won't win, and The Lucha Dragons probably won't. It is between The New Day (who are still excellent) and The Prime Time Players. I don't think The PTP are ready to lose the belts yet, but can see them getting booed against The New Day in smarky Brooklyn.
Prediction: The Prime Time Players Win
Three Team Elimination Match
Team Bella vs. PCB vs. Team B.A.D.
Another match used to pad out the card (which isn't a bad thing) is the 9 divas central to the Divas Revolution have an elimination match. In short, if one of the members of the team gets pinned, the team gets eliminated.
It appears to be set up for Charlotte vs Nikki Bella for the title, so I can see PCB winning this match with Charlotte getting the pin on Nikki.
Prediction: PCB Wins
Anyway, they are my predictions, what are yours? Please leave them in the comments!