Happy Royal Rumble! Yes the Road to Wrestlemania starts this with one of my favourite Pay Per Views of the year, The Royal Rumble. I love the Royal Rumble so much I've even created a competition surrounding it. Have you entered? You can do so here.
This is a big betting market, almost the size of Wrestlemania, so it'll be interesting to see what the bookies go for with bets. In the meantime, here are my Royal Rumble 2014 Predictions!
30 Man Royal Rumble Match
And lo, the hardest match of the year to predict. Purely by the number of entrants who have entered. There's 30 of them, and there could be a lot of shenanigans.
Let's be honest, there is filler, and as of tonight there are 20 of the 30 entrants. Xavier Woods for example has no chance. But who does? Well there's 6 names that I think have a chance of being there at the end.
Batista will probably be the bookies favourite when the markets are announced later this week. It's a tricky one to judge though, as it would be a bit flat and his RAW response wasn't perfect. Nevertheless, he's big and he's a name of some description. Should he headline Wrestlemania? Probably not. Batista isn't The Rock. Could he? Possibly. He has been mentioned in possibly challenging for the title.
CM Punk I think could start as a second favourite. The Voice of the Voiceless seemed out of the running a few weeks ago, but starting at 1, and being screwed over time and again by The Authority, and Punk & Orton hasn't been done to death, I could see him becoming the third man (and the second that can be talked about on WWE TV) in winning the event. It's been a long time since somebody has gone the distance, and he can go. So I'd watch him.
Daniel Bryan is a lot of the fans choice, and up until last week I'd have put him a favourite. He was in so many main event segments on Raw since TLC it's been obscene. And lets be honest, his leaving of the Wyatt's from . Unfortunately, he got concussed in the match in the cage a few weeks back. As such, he hasn't been announced for the Rumble but has been given a singles match. A possibility, and certainly somebody I could see money being put on, so worth a punt.
Brock Lesnar, like Batista, has been mentioned in the title hunt. Like Bryan, he has a match lower down the card. Like Bryan, if Cena wins his chances go up a lot higher (and it would be a heck of a marquee match at Mania). And like Bryan, he's not confirmed for the Rumble. He doesn't need a championship match for a big match feel. So we'll see.
Two other outside bets which I'm going to suggest when the odds come out later this week will be Roman Reigns – who WWE seem to like and like a lot, and Big E. Langston – who was looking strong up until last week. Both of them could have strong showings at the Rumble, and could be good each way bets, so that they won't win, but if they finish in the top 3 or 4 then you get some money.
But, less sitting on the fence. I'm going to go with my first pick. Unfortunately.
Prediction: Batista Win
WWE World Heavyweight Championship
Randy Orton © vs John Cena
And so, the millionth in a lifetime match, and a rematch between Randy Orton and John Cena.
This feud has blown hot and cold, and I'm not a fan of it. Whilst their match was okay at TLC, it just felt a bit flat, but I can see the same result again.
Orton seems to have snapped and got on the wrong side of The Authority, and his position as "face of the company" seems to be a threat. It hasn't really worked again, as The Authority are coming across as faces, and a bit hypocritical.
Nevertheless, maybe it's a swerve for Orton to look stronger. I have a feeling because Cena got the upper hand quite clearly before the main event. Cena could slot into any feud at Wrestlemania and it be a success. He doesn't need the belt going into Wrestlemania. Orton to win.
Prediction: Randy Orton Win
Big Show vs Brock Lesnar
A match that has some history in Rumbles. It was in 2003 where these two fought in the opening match on the card to determine the last spot in the Royal Rumble, and ironically Big Show had Paul Heyman – who is in Lesnar's corner – in his corner for this match as he was the heel.
The match was short but incorporated a lot of feats of strength from Lesnar. I'm not expecting that 11 years later. However the match did include a Lesnar Victory, which I think that will happen again here.
Prediction: Brock Lesnar Win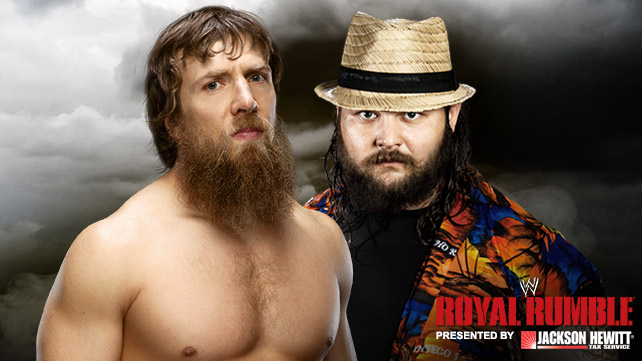 Bray Wyatt vs Daniel Bryan
And a feud that concluded a couple of weeks ago reaches a conclusion.
I've talked a lot about Bryan, but there's two people in every feud and Wyatt has played his part perfectly. This feud appears to has been rushed a bit, which could play into Bryan's hands in the Rumble if he's being pushed into the main event.
As such, at the very least I can see a Daniel Bryan win here. This should end the feud and both men should go onto different things.
Prediction: Daniel Bryan Win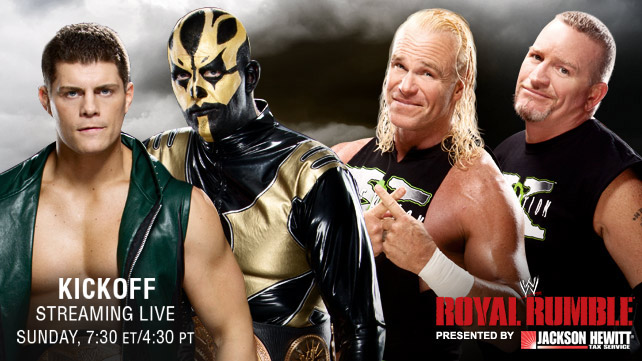 WWE World Tag Team Championship
Cody Rhodes & Goldust © vs The New Age Outlaws
An interesting development over the last few weeks has been the return and subsequent heel turn of the New Age Outlaws. They've been added to an already-impressive tag division, and been pushed into a match with the tag team champions.
This is on the pre-show, and really cannot see The Rhodes losing the belts. They seem to work better together rather than apart, and The Outlaws don't need the belts at this stage of their career. They appear to still being able to go, but I'd leave the belts on The Rhodes Brothers.
Prediction: Cody Rhodes & Goldust Win
That concludes the Royal Rumble Predictions. What about yours? What are your Royal Rumble 2014 Predictions? Let me know what you think in the comments!