So since the lack of content in the run up to Wrestlemania, we've now got seemingly a wealth of PPV style events. Since Extreme Rules last month, we've had the rebirth of King of the Ring, an NXT special, Elimination Chamber and this PPV – Payback. Unfortunately, markets don't appear to be open for them (yet), but we will see. I will keep you informed.
So yes! The run up to Payback saw some great Monday Night Raws, with the one in Montreal being a particular stand out. This hasn't reflected necessarily in the ratings, but in what is a traditional post-Wrestlemania lull, it's actually been incredibly watchable recently. The card is fairly unpredictable too, so here's our stab at the WWE Payback 2015 Predictions.
WWE World Heavyweight Title – Fatal 4-Way Match
Seth Rollins (c) vs. Roman Reigns vs. Dean Ambrose vs. Randy Orton
So the first time the WWE Title will be defended against the former Shield members occurs at Payback, rather than Wrestlemania. Also rather than a triple threat, this is a fatal 4 way for the title, including Randy Orton.
Orton & Rollins had a fairly decent cage match at Extreme Rules, so hopefully they will continue where they left off. Furthermore, with the Sheild Members, I can see this possibly being a warm up to my expected Wrestlemania 32 main event: A Shield Triple Threat.
As far as a winner? Well the odds are stacked against Rollins, which makes me think he will leave with the belt. Rollins to escape with the title again.
Prediction: Seth Rollins Wins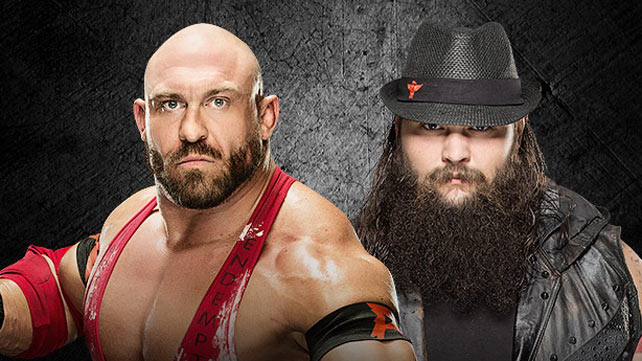 Ryback vs. Bray Wyatt
One thing coming from Wrestlemania saw the injury to Bray Wyatt in the warm up to his match with The Undertaker. From rumours, it was amazing that he competed, and – whilst I saw him in Manchester during the tour – I cannot remember seeing him take much of a beating in a match where both him & Daniel Bryan was protected.
As a result, this is Wyatt's comeback match – as I cannot remember him wrestling much in the last few months. Wyatt is protected so I cannot see him losing here.
Prediction: Bray Wyatt Wins
WWE United States Championship – "I Quit" Match
John Cena (c) vs. Rusev
So one of the highlights of the past few weeks has been John Cena's open challenges, with the multi-time World Champion going up against a lot of newcomers. Matches have been fresh and competitive, although Cena has come out on top, it's been watchable.
One thing they are seemingly doing is pushing Lana face, as she has been receiving a lot of cheers recently and recently let slip her new American accent. Hopefully they won't split them up, with the theory of Lana will be in peril and Cena will quit to protect her, only for her to reveal it is a ruse.
It's a nice theory, which implies one thing – it probably won't happen. Cena to win.
Prediction: John Cena Wins
WWE Tag Team Championship – 2 out of 3 Falls Match
The New Day (c) vs. Tyson Kidd & Cesaro
So the match of Extreme Rules was actually a bog standard tag match, with The New Day finally turning heel and Kidd & Cesaro acting as faces, and they lost the titles. Since then The New Day have been obnoxiously brilliant, leading to a thing that happens to all good heels – they get cheers.
With a two out of three falls match, it keeps Kidd & Cesaro fairly strong, getting a fall. However I cannot see them winning the titles back so quick, maybe at Elimination Chamber.
Prediction: The New Day Wins
Dolph Ziggler vs. Sheamus
One of the surprising things last month was Dolph Ziggler getting the win over Sheamus. I don't think many people saw it coming, but the end result was the same – Ziggler kissing Sheamus' arse. This is just a bog standard match, but an important one for both Ziggler & Sheamus' career at this moment.
I am going to think that maybe Ziggler gets the win again. The whole way this feud is building up Ziggler needs to win it. Though I'm not convinced he will though, so it's not a confident bet.
Prediction: Dolph Ziggler Wins
King Barrett vs. Neville
So one of the fun little events we've had recently has been the return of the King of the Ring. It's been interesting to say the least, with two semi final matches and a final match all delivering in spades. In the end, King Barrett won, with Neville taking the fall in a great match.
I'm wondering if this is the start of something for King Barrett in a bit of a push. Hopefully so. So King Barrett to win, with Neville picking up his first PPV win next month.
Prediction: King Barrett Wins
Curtis Axel & Macho Mandow vs. The Ascension
So onto the pre show match, which sees the many faces of Damien Sandow continue his "acting" gimmick by becoming "Macho Mandow". With Axel adopting Axelmania recently, this Mega Powers 2.0 are up against a knock off Legion of Doom – The Ascension.
The Ascension aren't doing much, Axel & Mandow could be a great fun lower tier tag team, and there aren't many faces going over in the card. As such, I'm going for a win for the new team.
Anyway, these are my predictions, what are yours? Please leave them in the comments!