So, last month we had a very good month, having all but one of the matches come in. Sadly it hasn't been that interesting, especially since we are in a bit of a post-Mania Lull – in all honesty, I watched a bunch of RAW's in the last 2 nights trying to catch up for this blog post, and I struggled.
With Daniel Bryan being out, the undercard has been actually quite strong, hopefully that will continue, but we will see after Payback what happens to the championship. It's been a bit of a damp squib since Bryan became champ (through no fault of his own), but we could be on the cusp of something fun. Here's my WWE Payback Predictions
Six Man Elimination Tag Match
The Shield vs. Evolution
An interesting one this one. Pretty much the main feud at the moment (bar the Bryan title picture) has been a battle between the two warring factions in the WWE. It has been a case of one upmanship on both sides, but with Evolution usually winning.
There has been rumours of this being the split of The Shield at this Pay Per View. Part of me cannot see it happening – I would love to see The Shield still together and keep this babyface run going. However, with Shield being victors last month, and how WWE loves 50/50 booking, I'm going for an Evolution win. Maybe with some form of interference, with a member of The Shield (Reigns), fighting bravely against 3 on 1 odds.
Prediction: Evolution Wins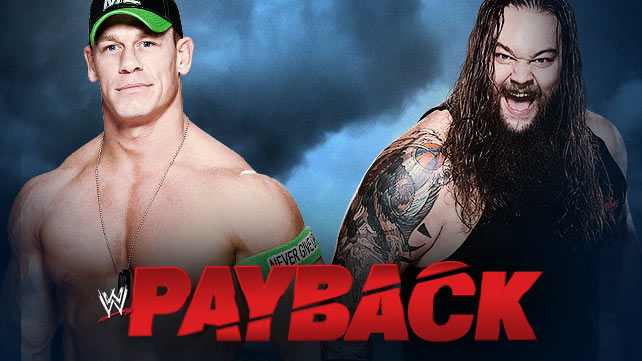 Last Man Standing Match
John Cena vs Bray Wyatt
And we enter month 3 of the Wyatt/Cena feud (6 if you count since the Rumble).
In theory this should be the rubber match, with Wyatt being fantastic recently as usual. Maybe even small babyface reactions? Though there was a RAW in a Cena-friendly place, which was unusual to hear.
As far as prediction goes, the Last Man Standing is a match that usually sees a babyface winner. Cena should really be standing at the end of it, as it makes sense. Wyatt to go on to challenge for the title though.
Prediction: Cena Wins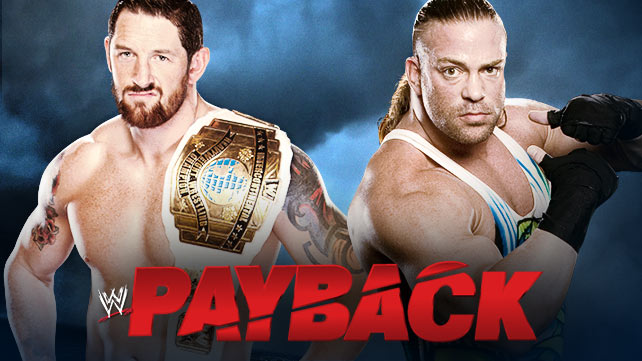 Intercontinental Championship Match
Bad News Barrett © vs Rob Van Dam
So Barrett continues to be a revelation in his "Bad News" persona.
Treated to a massive reaction when he came over here. Barrett managed to get a pop against RVD, which is remarkable. Van Dam has been Van Dam, and this could be a big win for BNB.
So, as RVD doesn't need the belt, but Barrett does (and are they building up champions again?!?!), so I'm going for a Barrett win.
Prediction: Bad News Barrett Wins
United States Championship Match
Sheamus © vs Cesaro /w Paul Heyman
What's this? Another mid-card title match?
Sheamus surprisingly became US Champion, beating Dean Ambrose in a Battle Royale on RAW. Ambrose day rich, defences poor reign was over, and there were shoots of a possible heel turn for Sheamus? It wasn't to be, as the smiling happy Irishman was back to normal as he faced his latest opponent, Cesaro.
Cesaro has been on a trail of destruction since Wrestlemania, so I can see him picking up the win here. However, he already beat Sheamus recently, so I'm not sure whether the 50/50 booking will come back and bite us again. I'm still thinking Cesaro will win (with a possible Sheamus joining Evolution heel turn in the main event?).
Prediction: Cesaro Wins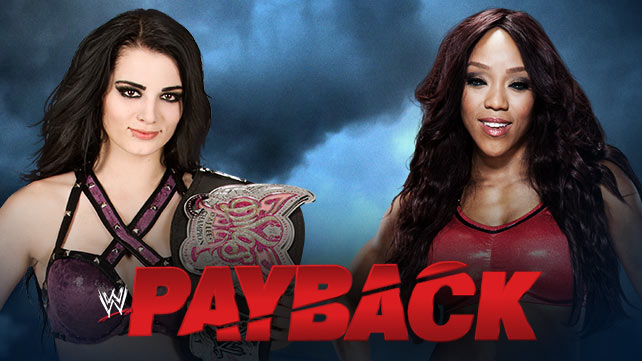 WWE Diva's Championship
Paige © vs Alicia Fox
So, Paige also got a favourable reaction back in the UK. The Queen of East Anglia has been on a bit of a run. But overall, she has been shadowed by Alicia Fox.
Fox has been giving the ball recently, with time on TV, and boy has she run. This has been a great feud and one that hopefully continues. I can see Paige winning this, but if Fox is allowed to develop her character, I can see her picking up Diva's gold in the near future.
Prediction: Paige Wins
Hair vs Mask Match
El Torito vs Hornswoggle
So, despite that last month had the alleged stipulation Pay Per View, it appears that there are more stipulations here. The maddest one being El Torito vs Hornswoggle in a "Hair vs Mask" match.
They had a pretty decent match last month, I'm surprised it's not in the main card. But nevertheless, this should hopefully be a decent opener.
Torito without his mask is nothing is he though?
Prediciton: El Torito Wins
Anyway, they are my predictions. What about yours? Leave them in the comments as usual!