So after a very profitable Summerslam weekend we're back! An interesting card is lined up, and I'm pretty sure more will be announced! Also, you may notice that this post is a little early, as it will be a little earlier this week due to me not being around much this weekend, so pushing the articles out early.
The night after Summerslam was almost like a night after Wrestlemania. With Brock once again written out, the return of The Dudley Boyz, the debut of Braun Strowman and Sting the new number 1 contender, this card could be fascinating. It's also fairly tricky to predict, so without further ado, here are our Night of Champions 2015 Predictions.
WWE World Championship Match
Seth Rollins (c) vs. Sting
If you're a wrestling purist, you'll be against this. Sting is currently without a win in the WWE and yet has a world title shot, in a move that mimicked WCW and TNA where there's a big name WWE individual coming into the company they immediately get a title shot. Not quite the same but I can see why they are doing this.
I have a feeling Seth will win this. He is being built almost as the chosen face of WWE since becoming champion, and what better way to be a champion than by beating another big name. At the time of writing (before the Monday Night Raw) I can see this going on before the US Title match, as it'll give a nice end to the show if Cena wins, and Sting really cannot take a loss to a weakened Seth Rollins.
Prediction: Seth Rollins Wins
WWE United States Championship
Seth Rollins (c) vs. John Cena
As alluded to above, this could go on last, and this explains how Rollins loses one of his belts.
Cena vs Rollins was the match of the night at Summerslam, and with Cena's backstage stroke, along with the strength of that match, means that it could go on last. Either way, I'd like it to get at least 20 minutes, to get time.
This seems like the most likely scenario of Rollins dropping one of the belts, as Cena's US Title run was great. So I'm going to plump for Cena to win here.
Prediction: John Cena Wins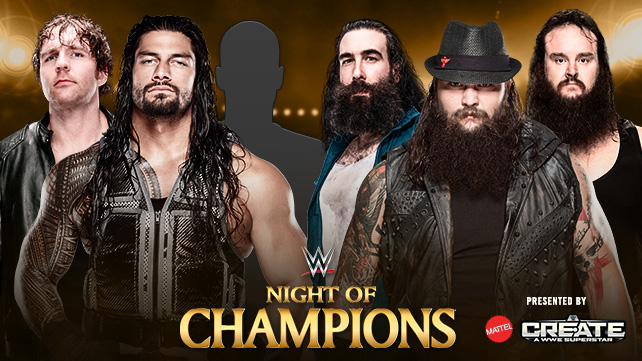 Dean Ambrose, Roman Reigns and ???? vs. The Wyatt Family (Bray Wyatt, Luke Harper and Braun Strowman)
This is interesting. I have been umming and ahhing a Wyatt Family win with Randy Orton (who was suspected as the team member), but ever since Dean & Roman have been teaming with a mystery partner who have yet to be announced, I'm expecting something big.
Roman has been great in this role recently, and there are people in the match who can take losses, so I'm going to say The Wyatt family will come up short again.
Prediction: Dean, Roman & Mystery Partner Wins
Dolph Ziggler vs. Rusev (with Summer Rae)
This is probably one of the least appealing matches of the card, all participants have been dragged down in this storyline, and generally it's a bit eurgh, with this ending as a double count out at Summerslam.
You can see this ending up as a mixed tag team match when Lana is back, with Ziggler and Lana winning. As such, I can see Rusev winning this for Dolph to win with Lana by his side.
Prediction: Rusev Wins
WWE Tag Team Championship
The New Day (c) vs. The Dudley Boyz (Bubba Ray Dudley and D-Von Dudley)
One of the surprising things after Summerslam was the return to action of The Dudley Boyz in something that was a little bit of a shock that was kept quiet. Straight away, their in a match with the best thing on Monday Night Raw – The New Day.
The Dudleys would become 10 time champion should they win, and I don't know, I don't think it's been built up as it should. I'm going for a Dudley Boyz win, but by DQ, with The New Day going through a table.
Prediction: The Dudley Boyz wins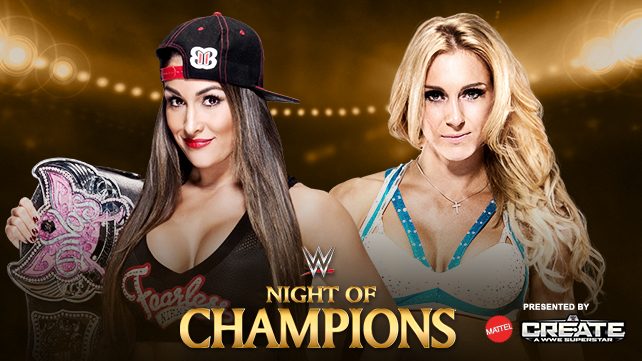 WWE Divas Championship
Nikki Bella (c) vs. Charlotte
So Nikki Bella is the longest running Diva's champion, beating the well respected but slightly awkward husband AJ Lee's record, and Charlotte is the first opponent post record break, who gets her shot after a DQ finish.
I think now that Nikki is the champ, Charlotte is due a run. With Nikki having the record, I think Charlotte will win.
Prediction: Charlotte Wins
Intercontinental Championship
Ryback (c) vs. Kevin Owens
Another championship I can see is Kevin Owens becoming Intercontinental Champion.
Ryback's reign hasn't exactly set the world alight, with injuries and fairly meaningless matches causing it to be a bit of a failure.
Kevin Owens on the other hand had one of the sleeper hits of Summerslam, with a great match going strong over Cesaro, and I feel that people are high on Owens. I can see him being rewarded for his matches with an IC title run. I just hope they don't mess it up.
Prediction: Kevin Owens wins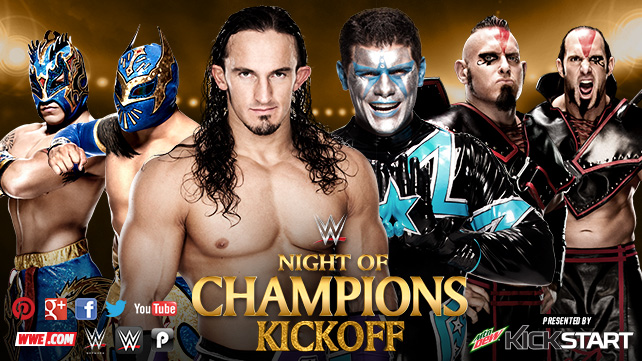 Neville & The Lucha Dragons vs. Stardust & The Ascension
On the kickoff show, a new group was recently formed with The Ascension and Stardust becoming The Cosmic Wasteland. Against them we've The Lucha Dragons and Neville.
First and foremost: Neville isn't taking the fall, but I can see his team losing. It's a prematch show, and The Cosmic Wasteland probably need a win to kick off the stable.
Predictions: Stardust & The Ascension Win
Anyway, these are my predictions, what are yours? Leave them in the comments below.