Woohoo! We are finally achieving a return on bets from betting on the Pay Per Views, so we're in the money. Did take a bit longer than I expected but as we say – believe in The Shield. Or rather Wrestling Betting.
Anyway, the WWE has been brilliant recently, hasn't it? So we move on to WWE Night Of Champions! Here are my predictions for who will win on Sunday.
WWE Championship Match
Randy Orton © vs Daniel Bryan
How good was Summerslam?
I mean, we won and won handsomely, but the show, top to bottom was pretty good. Of course the main event was a Match of the Year Candidate, and Bryan became champion – for all of 3 minutes before Triple H turned heel and Randy Orton capitalised to become the new flag bearer in the WWE.
And since then, WWE has been on a roll.
They've effectively rewritten the Attitude Era storyline of a corporation, with Triple H being the Vince McMahon, Orton playing Triple H, and Austin's part being filled by Daniel Bryan. The only slight issue is that Bryan appears to have been battered from pillar to post since the start of the storyline, which is a bit unfortunate, but I think it has been brilliant enough.
I cannot really see Bryan getting the title back so quickly. It's a storyline that needs to last longer than a month, but I cannot see exactly how the match is going to end. I can see shenanigans, which may lead to a Bryan DQ win, shoving him out of the title picture before he gets his much-needed-revenge at Survivor Series or (god I hope so) Wrestlemania. Or Orton wins dirty, maybe with a dodgy ref turning heel? Maybe? I prefer the latter, as it makes more sense, so an Orton win.
Prediction: Randy Orton Wins
Handicap Elimination Match
CM Punk vs. Curtis Axel & Paul Heyman
There is no way CM Punk will get his hands on Heyman. At least not yet.
It is too soon a pay-per-view yet, and isn't actually that big a PPV for something like Punk vs Heyman to be given away. This kind of thing would be good for Survivor Series actually, with Heyman, Axel, Brock Lesnar and…somebody else up against Punk, RVD, Ricardo Roduiguez (you know – as another "non wrestler" type) and somebody else. With Punk & Heyman as the last 2, then the battering can take place, akin to Ultimate Warrior vs. Bobby Heenan at Survivor Series 1989.
As such, I can see this match finish Axel defeated, and Punk defeated by a Brock Lesnar or another "Paul Heyman Guy", to join his group. I'd like the latter, but expect the former. Either way, Punk isn't going to get his hands on Heyman. Not yet, anyway.
Prediction: Curtis Axel & Paul Heyman Win
World Heavyweight Championship
Alberto Del Rio © vs Rob Van Dam /w Ricardo Rodriguez
Another grizzled vet for Del Rio to face.
Out of the two title matches, I can see this one being the more likely for a change in owner, but I still am not 100% yet. RVD doesn't look like he is ascending to the top of the mountain yet, especially so soon after returning. Yes he has Ricardo in his corner, but I'm still not convinced. Beyond a hot-shot title change so that Sandow can become champion, I cannot see RVD winning. He doesn't need the win, and will still maintain the same level of heat on him, win, lose or draw.
Prediction: Alberto Del Rio win
Divas Championship Fatal 4-Way Match
AJ © vs Natalya vs Brie Bella vs Naomi
Now I can see a title change here.
With "Total Divas" not being a total flop (commercially), I can see them as a way to get more people behind it have one of the stars win the strap. I'm going to go with Natalya, for the pure and simple reason she's probably the strongest competitor in this match that isn't AJ.
Maybe also hotshot the title back to AJ next month with her new faction's assist, and you have a Total Divas vs Non Total Divas match perfect for Survivor Series. Bonza.
Prediction: Natalya Win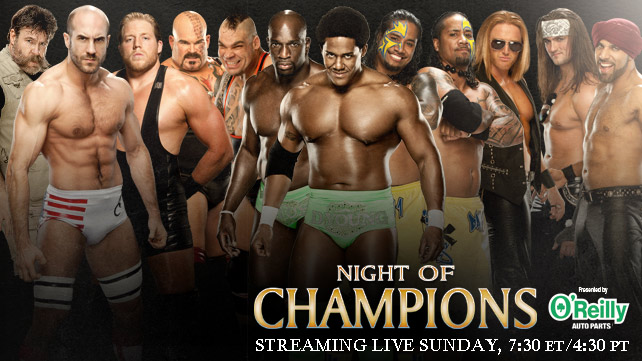 Tag Team Turmoil Match & WWE Tag Team Championship Match
The Prime Time Players vs The Usos vs Tons of Funk vs The Real Americans vs 3MB
The Winner Faces The Shield at Night of Champions
In the pre-show, there is a Tag Team Turmoil match featuring 5 teams battling for the right to face The Shield at Night of Champions. One smaller story to emerge in the last month was Darren Young of The Prime Time Players announced his sexuality to the world, and became the first known gay WWE Superstar. Good for him. WWE immediately jumped on this and pushed The Prime Time Players as good guys and had them rack up wins. This hot streak should see them navigate the pre-show match with relative ease.
So what of them beating The Shield? Well in all honesty with Shield in the position that they are I cannot really see them dropping the straps yet, but WWE have done stranger things. A possible title change, but unlikely.
Prediction (Turmoil Match): The Prime Time Players win
Prediction (WWE Tag Team Championship Match): The Shield win
So these are my predictions for WWE Night of Champions. It's a bit of a quiet card, I expect a Dolph Ziggler vs Dean Ambrose match to make it on the card as well, but with 6 matches it's a little bare, with only the main events carrying it. What of your predictions?