So with PPV's coming thick and fast at the moment, we've barely had time to breathe from the Elimination Chamber just over a week or so ago and now we plunge head first into one of the new "big" Pay Per Views – Money in the Bank.
Last year's Money in the Bank was one of the all time great PPV's, with Cena becoming champion and the newly heel turned Seth Rollins becoming Money in the Bank. Cena would lose the belt soon after to Lesnar, who then lost it to Rollins in the main event of Wrestlemania in one of the all time classic moments of this year already.
So what of this year? Well the card looks interesting, but we're not here for quality, we're interested in how the card will play out. As such, here are our Money in the Bank Predictions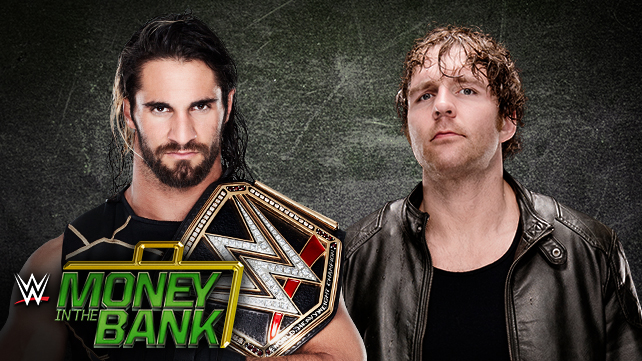 WWE World Heavyweight Title – Ladder Match
Seth Rollins (c) vs. Dean Ambrose
So in one of WWE's best ever second screen experiences was during last week's Raw. With Ambrose taking the title hostage after a DQ win (grrr….), WWE's Instagram's page showed us Ambrose out on the titles in New Orleans. It's well worth checking out.
With this match being a ladder match, it suggests that the match can only end when somebody grabs the World Title, so no pesky DQ's. As such, Seth Rollins will probably retain.
Prediction: Seth Rollins Wins
Money in the Bank Ladder Match
Neville vs. Dolph Ziggler vs. Randy Orton vs. Kofi Kingston vs. Sheamus vs. Kane vs. Roman Reigns
So the big match at this PPV is the Money in The Bank Ladder Match, to crown a new Money in the Bank briefcase holder, guaranteeing the holder a title shot whenever they want within the next year.
With some of the participants in this match, this could be a spotfest. Neville, Dolph Ziggler & Kofi Kingston probably will take some big falls, and it would be wonderful if Kofi Kingston picks up the win: what would happen with the briefcase being under Freebird rules – having either Big E or Xavier Woods being able to cash in? That interests me greatly.
Unfortunately, I cannot see that happening. With a few people making up the numbers, I can see this being Roman's win to begin his march to the title.
Prediction: Roman Reigns Wins

John Cena vs. Kevin Owens
One of the highlights of Elimination Chamber was seeing Kevin Owens beating John Cena cleanly in the centre of the ring in a remarkable match, and a contender to match of the year. It was predicted here, which is a nice shock for us. However this match is a return match, which suggests that Owens will not win cleanly? Well I'm going to try and predict something.
A DQ finish.
I think Cena may win, but with Owens looking strong with Owens cheating to win. So with this, I'm calling a win for Cena.
Prediction: John Cena Wins
WWE Tag Team Championship
The New Day (c) vs. The Prime Time Players
So in the Elimination Chamber, The New Day retained following a 3 on 2 attack on the Prime Time Players, so with Kofi in the Money in the Bank Ladder Match, this will be Big E & Xavier Woods defending against The Prime Time Players.
Whilst Prime Time Players have been built up briefly as faces, I cannot realistically see them beating The New Day, which is still fresh with their heel turn.
As such, I'm going for a New Day retention.
Prediction: The New Day Wins
WWE Intercontinental Championship
Ryback (c) vs. The Big Show
The other Elimination Chamber match saw a bit of a surprise, with Ryback becoming the Intercontinental Champion. If nothing else, the title looks good on him and he looks like a champion.
Ryback has been great recently, with him managing to make a long interview segment featuring him, The Miz & The Big Show seem interesting. So bravo.
Hopefully they'll give Ryback a chance with the belt. With this his first defence, I cannot see Big Show becoming champion. Shall we go with a Ryback win? Lets.
Prediction: Ryback Wins
WWE Divas Championship
Nikki Bella (c) vs. Paige
So the face turn for the Bellas is over, with Paige back on the scene, and the stupidest twin magic ever with Brie pinning Paige despite the fact she looks nothing like her sister. Urgh.
I usually go for Paige to win the title, so for this I'm going for Nikki Bella to retain. Hopefully an NXT Diva will be brought up soon, and Nikki will lose to her.
Prediction: Nikki Bella Wins
R-Truth vs. King Barrett
So in the pre show, R-Truth is facing King Barrett. R-Truth was great recently, with him coming out to cut a promo on the Money In The Bank Ladder Match, until he was informed that he wasn't present in the match. Genius.
Barrett hasn't set the world alight since becoming King of the Ring. As such, I'm going for an R-Truth win. This may change dependant on the odds.
Prediction: R-Truth Wins
They are my predictions, but what are yours? Please leave them in the comments!