Pay Per Views are coming around thick and fast now, aren't they? It doesn't seem that long ago since WWE Payback, and already we're looking at WWE Money In The Bank.
In the past few weeks on Raw and Smackdown WWE has begun finding a bit of a stride that has been lacking for a while, the Raw after Payback was superb in particular, it has struggled a little bit, but shows have actually been fun to watch. So here are my predictions for this year's Money in the Bank – a Pay-Per-View that has usually delivered.
WWE Championship Match
John Cena © vs. Mark Henry
In one promo, Mark Henry actually proved himself to be the best actor that came from the Nation of Domination (yes, better than The Rock), and it should have been him getting massive movie contracts. For a large amount of fans to be completely suckered into Henry "retiring" the night after Payback, it was brilliant. Since then: Cena has been doing his usual promos, meaning that I obviously want Henry to destroy Cena.
Will he do it? I'm not sure. Henry has come to be a more credible challenger than Ryback, and if they are ever to make him champion now would be a perfect time, however I don't think Cena is losing the strap just yet.
Prediction: Cena Win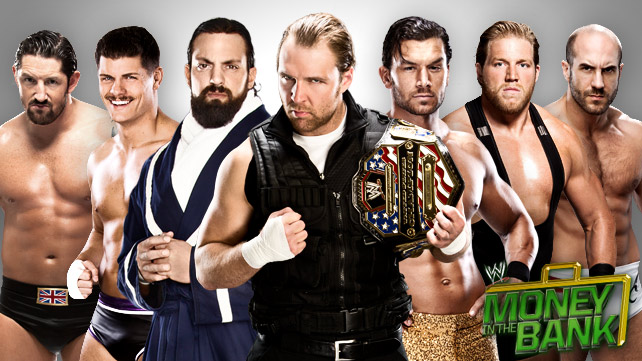 World Heavyweight Championship Money In The Bank Match
Wade Barrett vs. Cody Rhodes vs. Damien Sandow vs. Dean Ambrose vs. Fandango vs. Jack Swagger vs. Antonio Cesaro
The problem with pay per views of this nature is that these multi-man matches you're usually way off from who wins. Yes a few of those names are making up the numbers (Fandango), but I believe at least 3 or 4 names have a genuine shot in winning.
Looking at the list, you have Damien Sandow, Dean Ambrose & Antonio Cesaro who have had quite big pushes in the last few weeks, and you wouldn't be surprised if Jack Swagger wins it as well, so it's a tricky one to predict.
Looking at it, I'm going to go with Dean Ambrose. Keep them strong and make him cash in soon, so it's a summer of The Shield.
Prediction: Dean Ambrose Win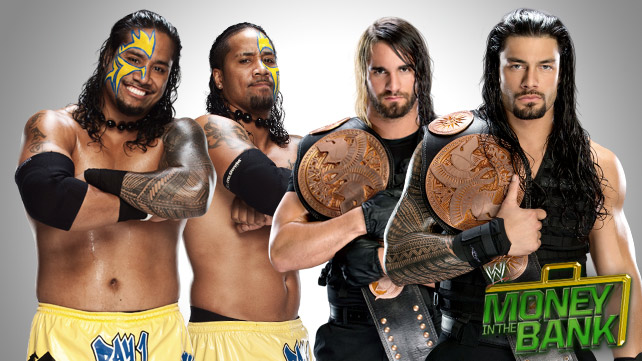 WWE Tag Team Championship
Roman Reigns & Seth Rollins © vs. The Usos
Yeah, I was surprised that The Usos were still employed, but there you go.
Seemingly pushed from nowhere, it's quite good that the WWE is beginning to push tag teams again. The Usos, rather like The Shield, are actually a team, rather than a team of two people thrown together with a "hilarious" name, picked on the WWE App (see Hell No, Rhodes Scholars).
Either way, no way that The Usos are on the same level as The Shield yet, so as one of my certainties, I'm predicting a Roman Reigns & Seth Rollins win.
Prediction: Roman Reigns & Seth Rollins Win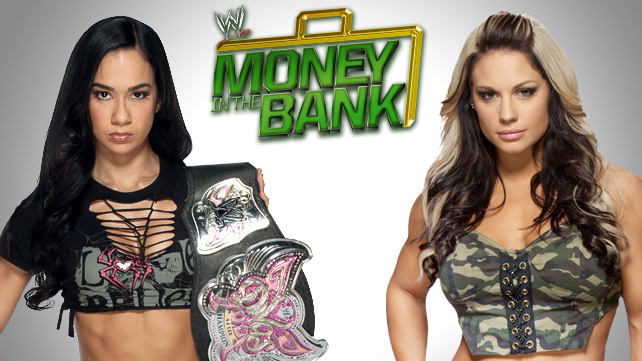 WWE Divas Championship
AJ Lee © vs Kaitlyn
Last month I waxed lyrical on this feud being one of the top feuds going at the moment, with AJ playing the right bitch, and Kaitlyn being the babyface who should've got her revenge.
Except she didn't, and the crowd showed their sympathy with a "you tapped out" chant.
Ever since then it's been the same feud, with AJ trying to get into Kaitlyn's head, but that doesn't make sense? AJ is the champion now, why would she need to play mind games?
I still think AJ will hold the championship again. She is by far and away the best diva in the division. Kaitlyn will win the belt back, probably at Summerslam.
Prediction: AJ Lee Win
Intercontinental Championship
Curtis Axel © vs The Miz
Another month, another shot for The Miz at the Intercontinental Championship.
It was a surprise when they put the belt on Axel so quick, though it was a nice touch when he won the belt his father Curt Henning made so famous on father's day. Since then though Curtis has been on a bit of a roll, and The Miz – well – hasn't.
In short, I can see Paul Heyman's prodigy holding on at Money in the Bank
Prediction: Curtis Axel win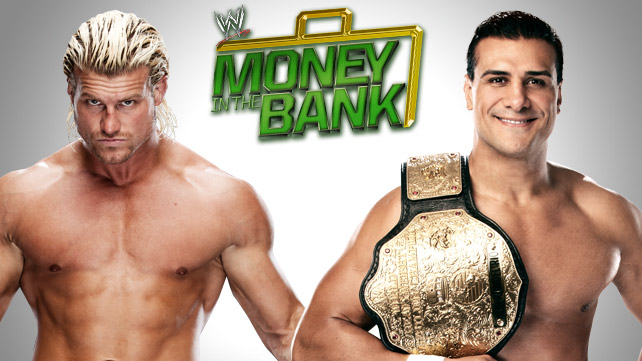 Dolph Ziggler vs Alberto Del Rio
Well, welcome to the shitlist Del Rio.
Yes, it was the Mexican superstar who – rather surprisingly – beat Ziggler in a double turn to become champion, and cost our bets last month. Nevertheless, it was well done, with Ziggler becoming quite the babyface already, and Del Rio actually being rather entertaining since becoming champion.
I'm not sure what to do here with Ziggler or Del Rio, so cannot really predict it. It seems daft to switch the belt back straight away, yet one idea I had could be quite a nice long running story that Ziggler, when becoming champion, could never defend the belt, before defending it successfully for the first time at Wrestlemania 30.
It was just an idea though, I'm tempted instead to go for a Del Rio win.
Prediction: Alberto Del Rio Win
WWE Championship Money In The Bank Match
CM Punk vs Daniel Bryan vs Rob Van Dam vs Randy Orton vs Kane vs Christian vs Sheamus
I can only see one winner in this "all face" Money In The Bank match.
Daniel Bryan has been on a heck of a run recently, producing stand-out matches against Randy Orton in particular, and has been showcased as the top talent in this match, despite being "The Weak Link". In short I can see him picking up his second victory.
Other than that, I cannot see much else major happening. Punk is in a programme with Lesnar & Heyman so doesn't need to win. RVD will show up and probably have a talked about spot, and the rest – with the exception of Randy Orton & Kane probably – haven't really done much.
Prediction: Daniel Bryan Win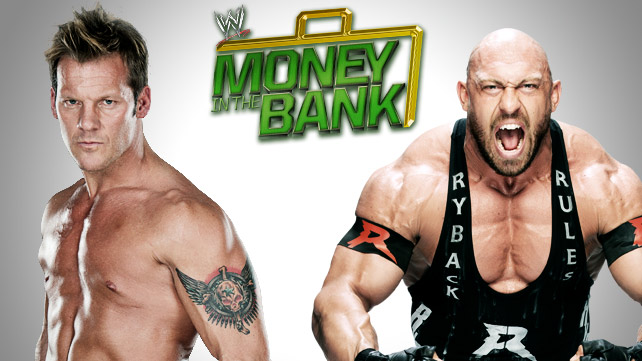 Jericho vs Ryback
And so, Ryback has been relegated to a nothing match.
Ryback NEEDS a win, if nothing else. Ryback hasn't won a pay-per-view match since last year's Money in the Bank, where he won a handicap match against 2 enhancement talent. Jericho is in that position of elevating talent, without quite being a jobber to the stars, so I'm going for a Ryback win.
Predicition: Ryback Win
So those are my predicitions, but what about yours? Let me know in the comments!