So another month and another PPV. And also – let me begin with an apology to those who have subscribed to the mailing list. Unfortunately last month's betting tips didn't send. They were on the blog, but wasn't sent. Which kinda sucks, and we apologise for this screw-up. We're not sure exactly what happened. But something did, and we're sorry. We'll make sure it doesn't happen again though.
So onto the pay per view. WWE has been in a state of flux since last month, which was fairly predictable. That shouldn't necessarily be a bad thing, as although it makes predictions harder, the odds should be better, leading to a better return.  As such, onto the predictions.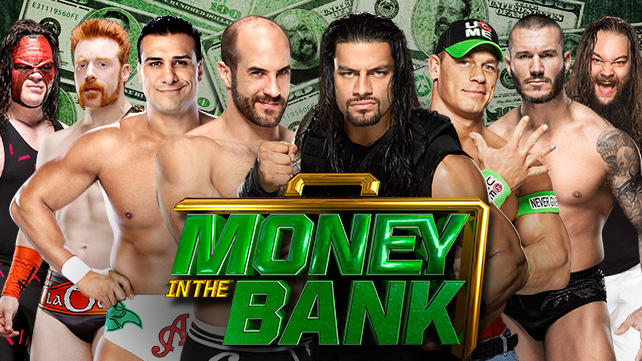 WWE Money In The Bank Ladder Match
Alberto Del Rio vs Randy Orton vs Sheamus vs Cesaro vs Bray Wyatt vs Roman Reigns vs John Cena
Well Daniel Bryan's reign ends with a whimper, rather than a bang. After having surgery, they've finally taken the belt off Bryan, leading to a vacant World Title for the first time since….well…last year. It's a shame Bryan didn't get a run, but we'll hopefully see him back fit & healthy soon.
And so the WWE has a vacancy in it's World Title, and no Bryan around to fill it. So who should? Well, looking at this, there seems to be only 2 choices for winning. Both babyfaces.
The first is Roman Reigns. He seems to be knocking about the title scene and you could see him climb the ladder and become a champion. He seems to be booked like a Super Cena, and I could see him scaling the ladder to become champion, only for the Money in the Bank to be cashed that night (more on that theory later). And the other guy booked like Super Cena – John Cena.
Unfortunately, I can see Cena becoming champion again. WWE needs a strong champion again, and can see Cena being once again the standard barer for the belt. Orton could win it again for Bryan to win it when he returns, but I feel that has been done to death. Cena to win, only to lose it to a credible heel later down the road. It will be popular though – Boston is Cena's home state.
Prediction: Cena to Win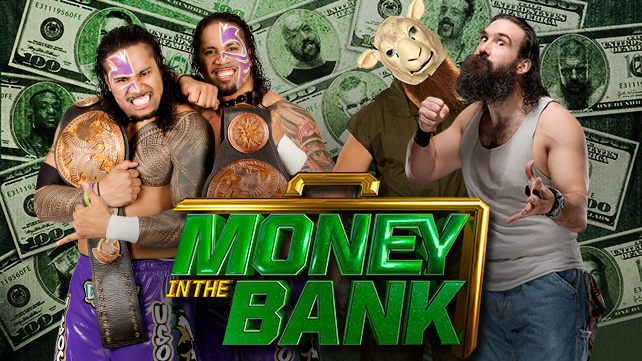 WWE Tag Team Championship
The Usos © vs Luke Harper & Eric Rowan
The Uso's have been great champions, getting involved with the Wyatts vs Cena feud and not been bit players. However I feel that their time as champions may be up.
Harper & Rowan have been excellent recently, so I can see them being rewarded with the Wyatt's first title reign. Nothing against the Uso's, who have been great, but they have no credible challengers after the Wyatts, whereas Harper & Rowan promise a bunch of fresh matches.
Prediction: Luke Harper & Eric Rowan Win
WWE Money In the Bank Match For A Guaranteed World Title Shot
Seth Rollins vs Bad News Barrett vs Dean Ambrose vs Dolph Ziggler vs Jack Swagger vs Kofi Kingston vs Rob Van Dam
So as well as the Money in the Bank Match for the WWE Title, there's another one for a guaranteed World Title shot within the next year. And Seth Rollins is in it.
The night after Payback they broke up both Evolution (with Batista leaving again) and The Shield, with Rollins turning on Ambrose and Reigns to become Triple H & The Authority's latest poster boy. Since then, he has been on a bit of a push, so I can see him winning the match. Nobody else I feel comes close, with no names bar him announced a week before the Pay Per View, I cannot see anybody bar him getting a push.
Prediction: Seth Rollins wins.
WWE Women's Title Match
Paige © vs Naomi
So Paige seems to have run over the heel roster, so have started on the face roster – this time starting with the Funkadactyls' Naomi.
Naomi has been having a bit of a feud with Cameron, after beating Paige, Cameron attacked Paige. However there seems to be some sort of mutual respect between Naomi & Paige. As such, I can see Paige winning, but possibly via DQ – with Cameron attacking Paige, leading to the breakup of the Funkadactyls.
Prediction: Paige Wins
Anyway, these are my predictions, what about yours? Feel free to leave them in the comments!