It is fairly safe to say that WWE has been terrible. Not bell to bell, when given chance to go (as the NXT Takeover: Respect show was good), or even out of the ring (Table for 3, anyone?), but the longest episodic weekly television show has been also the most boring episodic weekly television show, with the writers seemingly forgetting fundamentals and going for quick spikes over, and over, and over again. Sadly this is slowly having a negative effect on the show, as none of the matches seem to matter.
Nevertheless, bell to bell it's been fairly watchable, so we look forward to Hell in a Cell with mild trepidation. Also I'm looking forward to go to Wrestlemania next year. Yes, it may be turd like at the moment, but it's a dream and something ticked off the bucket list. But that's April next year. In the meantime, here's my WWE Hell in a Cell 2015 Predictions.
Hell In A Cell Match
The Undertaker vs. Brock Lesnar
So rather than have the final match for this Taker/Lesnar feud, it appears to be happening at Hell in a Cell. I'm not sure exactly where they are going with this. Taker beat Lesnar at Summerslam but it wasn't in classic Taker style, instead resorting to a low blow and a controversial victory. It set it up nicely for Mania, in the final showdown between Taker & Lesnar. But they've gone for this at Hell in a Cell. Admittedly Taker & Lesnar worked well in a cell the last time they met there, but that was a fair few years ago.
Nevertheless, this should be fairly watchable, and a big money match.
As for who will win? Stock in Brock appears to be really high, and Taker is (sadly) on the way out. As such, I'm calling a Brock Lensar win.
Prediction: Brock Lensar Wins
Hell In A Cell Match
Roman Reigns vs. Bray Wyatt
So the two focal points of a feud that has lasted ages come together at Hell in a Cell. It's been since Money in The Bank that these two have fought. Although it doesn't feel like the culmination of a feud, but rather a chance to finish off the battle between these two future icons going forward.
I feel this is the beginning of Roman Reigns climbing to the top of the mountain at Wrestlemania. Reigns appears to be the next future superstar, so with Braun Strowman not being involved, I can see Reigns winning this for now.
Prediction: Roman Reigns wins
WWE Championship Match
Seth Rollins (c) vs. Demon Kane
So this is a great example of WWE booking themselves into a corner.
In short, Kane has been a breath of fresh air recently, one of the high points of WWE in the last few months, his transition from Demon Kane to Corporate Kane and back again has been funny, and actually watchable.
So they book him in a title match that if he loses, Corporate Kane is fired.
So either one of two things will happen: Kane will be the new champion. Whilst good, it isn't that good. Alternatively if he loses, Corporate Kane is fired, killing off a renaissance for the Big Red Machine.
Of course, Kane could win and Sheamus could cash in, which means that we'll have a couple of matches between The Big Red Machine & Sheamus. And, do you know what, let's go with that.
It's a long shot. I'm not putting it in my bit bet, but with Survivor Series coming up, Rollins could go into a multi man match and still headline the show. WWE Championship is the third match on this card in terms of main eventing (behind the two Hell in a Cell Matches). With gimmick central for the next 3 Pay Per Views, it's so easy to keep the title out of the main event. Demon Kane to win, and Sheamus to cash in.
Prediction: Demon Kane to Win
WWE Divas Championship
Charlotte (c) Vs. Nikki Bella
Another thing that has been booked into the corner has been the so called "Diva's Revolution". Despite being very organic in NXT, and supported in NXT, it is something that the WWE is trying to own and, as a result, it is something they are ruining. Sure, Charlotte is the champion, but she's not having the stand out matches on Raw like it happens within NXT. Sure, they're better than they were, but not NXT standard.
However, I cannot see Charlotte losing this. She's just become champion and as a result probably needs the belt more than Nikki.
Prediction: Charlotte Wins
WWE tag Team Championship
The New Day (C) vs. The Dudley Boyz
Another bright spark of the recent WWE run has been The New Day, who I hope there has been a meeting backstage and allowing them to run with the microphone, as they seem to be head and shoulders over everybody else. Sure they're usually on the losing end, but they are booked like classic heels.
As a result, I cannot see the bonus of The New Day losing the belt right about now. The Dudley Boyz usually win by DQ, but I can see The New Day winning cleanish. So The New Day should win.
Prediction: The New Day Wins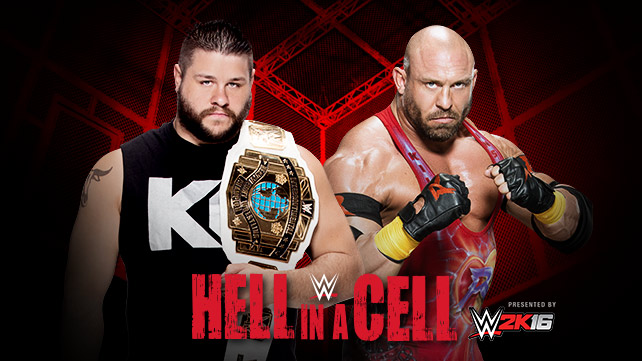 WWE Intercontinental Championship
Kevin Owens (c) vs. Ryback
This feud has been a bit quiet, as I cannot recall Owens being on anything meaningful on Raw. So I don't really have much to say. Owens to retain.
Prediction: Kevin Owens Wins
United states Championship
John Cena (c) vs. ???
Now this is interesting.
So John Cena is the still same happy chappy who have been having match of the year after match of the year over and over again. He's been great this year.
However, John Cena is pushing 40, and there are rumours that he is taking time off very soon. This has been semi-confirmed as he's not mentioned on the upcoming WWE European Tour. So I could see him losing here.
I'm not sure who he's up against, but there's a chance of a huge debut here. Maybe Samoa Joe, or Finn Balor?
Prediction: ??? Wins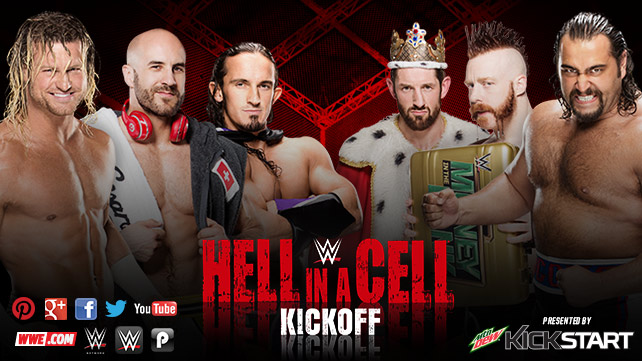 Pre-Show Match
Dolph Ziggler, Cesaro & Neville vs. Wade Barrett, Sheamus & Rusev
So the "EuroTrash Lads" (as coined by Wade Barrett, which raises a smile from any bloke who grew up in the UK in the 1990's) are up against the three criminally underpushed wrestlers, who are lost in the shuffle.
I'm going to suggest that the heels win. There is talk of Rusev being downpushed, but I cannot see that. The heels are seemingly stronger, so I can see them winning this.
Prediction: Wade Barrett, Sheamus & Rusev Wins
Anyway, these are my suggestions, what are yours? Please leave them in the comments below!