Another fortnight, another WWE Pay Per View. This one is centred around WWE's cell structure, so could be an easier sell to the slowly getting weary WWE faithful, especially after the non finish of the main event at Battleground.
Nevertheless, I think WWE have admitted a mistake, and want to give a massive sell to this, particularly though with Survivor Series next up.
Of course, one of the most famous times that the WWE title was held up like this was in the run up to Survivor Series 1998, where the entire show was a one-night tournament. It'd be amazing if WWE did that again. But I doubt it would be the case. Anyway, onto the WWE Hell in The Cell 2013 Predictions we go!
WWE Heavyweight Championship – Hell in The Cell
Randy Orton vs Daniel Bryan
And so we are at Randy Orton vs Daniel Bryan, round three. This one is in the cell and the red-hot storyline at Summerslam is quickly losing momentum. The feud seems to be on the back burner, when it should be the focus. It's not the wrestler's fault: Daniel Bryan has been his usual superb self and Orton has been as fresh as he has been for years, but the feud seems to be a bit of an afterthought, which is a shame.
As far as this match goes, I cannot predict it. Bryan (hopefully) won't be held up as the failure of this storyline, but part of me thinks that the big plan for Bryan to finally complete his chase at Wrestlemania seems more fetched by the day. Shame.
I'm still going to predict it will happen, as once again there's another participant in this match that could influence the outcome – the special guest referee Shawn Michaels.
Michaels is split in this match – after training Daniel Bryan and being best friends with Triple H. His involvement in the storyline hasn't yet been explained. I think this match will see him join the side of the regime, and cost Bryan the belt, albeit a bit reluctantly.
Prediction: Randy Orton wins
World Heavyweight Championship
Alberto Del Rio © vs John Cena
And so, Super Cena was given 4 months off, but like his career, he's back up after two.
Again another tricky one to call, with two factors.
First of all – Alberto Del Rio as champion has been forgettable. Sure he's won, and won convincingly. However he doesn't exactly set the world alight with his skills. I did believe at one point after turning face he could've been a big player but it wasn't meant to be. Instead the career has been a floundering champion, and on paper, Cena should win this.
However, Cena I don't believe is ready for a full time schedule yet. I don't think he was as injured as the WWE made him out to be, but I don't think he's fully fit yet. As such, I can see Del Rio escaping with the belt to save face.
Nevertheless, the easiest way to do this would be a disqualification or a count out, which would give Cena the win, technically. Expect shenanegans.
Prediction: John Cena win
Handicap Hell In The Cell Match
CM Punk vs Ryback & Paul Heyman
Another feud that is rumbling on is the CM Punk vs Ryback feud again. Punk won the first match, albeit not convincingly or babyfacey, so Ryback is looking for revenge.
It is set up for Ryback to get his heat back in this match, especially with the "handicap" match which screams schenanegans. Look at it this way, have the blowoff at Survivor series, possibly as a 5 on 5 match, incorporating the rest of Heyman's stable, and then move everybody onto other things.
Prediction: Ryback Wins
Divas Championship
AJ Lee © vs Brie Bella
So once again these two divas meet for the title. Last month I predicted a Brie Bella win, which didn't materialise. So this month I'm going to go with AJ.
The rug has been pulled under Brie a bit, rather than a fighting champion, she appears to be playing the damsel in distress in the Orton/Bryan stoyline, so AJ to win and keep the belt – she kind of needs it more.
Prediction: AJ Lee Wins
WWE Tag Team Championship
Cody Rhodes & Goldust © vs The Shield vs The Usos
So in a surprise, Cody Rhodes & Goldust not only got their jobs back, but also became champions, much to the delight of the WWE fans.
I cannot remember a time when Cody Rhodes & Goldust have been as over as they have been recently, which is brilliant and a testament to the booking. This match is a little thrown together, so I can see the champions retain, especially as they've not held the belts too long.
Prediction: Cody Rhodes & Goldust Win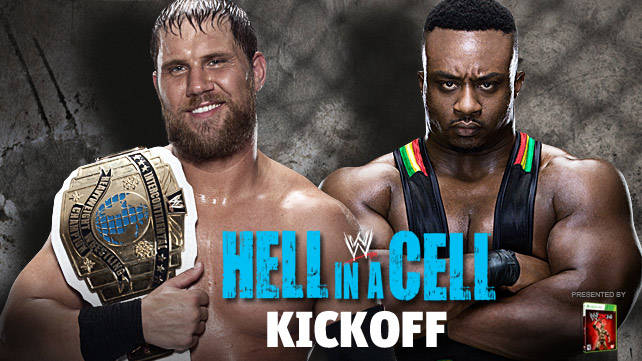 Intercontinental Championship
Curtis Axel © vs Big E. Langston
Another intreaguing development from the last few weeks has been the face turn from Big E. Langston. Slotting into the CM Punk/Heyman storyline, Big E. has been a bit of a revelation – a big man that can work!
As such, I can see him picking up the win. Axel hasn't been the best champion ever so can see Big E. getting a run with the strap.
Prediction: Big E. Langston Wins