Okay, let's be honest. Wrestlemania was as good for the viewer as it was bad for betting. Most people had a shoo-in for the Undertaker to go 22-0. Alas, he wasn't, and Brock Lesnar ended up being the 1 in 21 and 1.
Since then, WWE has been shook up with new talent joining, and there has been an absolute roller coaster of emotions with The Ulitmate Warrior burying the hatchet, and passing on 2 days after being inducted into the Wrestlemania. So sad. So the build up to what has been a traditionally strong Pay Per View has been odd. Nevertheless there are some intreaguing match ups, and hopefully not too many tricky matches to predict. So as such, here are my predictions.
WWE World Heavyweight Championship
Daniel Bryan © vs Kane
So Daniel Bryan has become champion, and people would ask "just how has he been booked? Will he be held in high regard? Or be a midcard champion?". Well, the jury's out.
Bryan you see has had an emotional few weeks. After becoming champion, he was off TV the week after due to a wedding, and then missed the week after that due to his father unexpectedly passing. As such, the build up for his first title defense has been a bit rushed.
His first defense is against his former tag team partner – Kane – who had a poor showing at Wrestlemania, squashed by The Shield. Admittedly he wasn't the weakest link – The New Age Outlaws (who are since absent) went out on their backs in the best way possible, and Kane has one of those positions where he could lose to the weakest member of the roster before becoming a champion the week after.
Nevertheless, I cannot see Bryan losing the belt to Kane. The leader of the Yes Movement will be champion for a while, so cannot see him losing here.
Prediction: Daniel Bryan Wins
Six Man Tag Team Match
The Shield vs Evolution
Despite not being a title match, I can see this being the main event.
The match between The newly babyface Shield and the newly reformed Evolution has been talked about as a dream match. I'm not 100% sure, but it appears like the WWE want it to be.
As to a winner? I'm not sure. It's pretty even on paper, and as much as I'd like Triple H and his cronies to lie down for the loss, I cannot see it happen. I can possibly see a break up of The Shield start now. So, with this in mind, I'm going for Evolution. With some form of schenanegans.
Prediction: Evolution Wins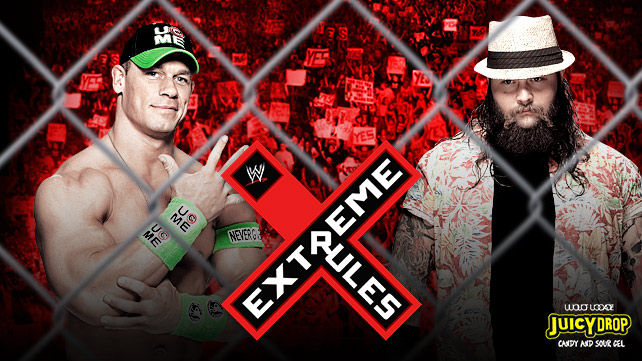 Steel Cage Match
Bray Wyatt vs John Cena
Okay. So this may or may not be the Rubber match of the feud. It shouldn't be as Cena has the upper hand on match wins, but it's in the cage, a classic blowoff to a feud.
This has been the highlight of the month, with Cena becoming ever-so-exasperated at Wyatt and all he is doing, soI can see the mind games continue, with Wyatt picking up the win. I want this feud to continue another month. Is it too much to ask?
Prediction: Bray Wyatt Wins
Intercontinental Championship
Big E © vs Wade Barrett
An interesting development in the last month has been the build up of the Intercontinental Championship again! There has been a fairly good Intercontinental Championship tournament, which resulted in Wade Barrett winning quite nicely, beating some big challengers on the way. Good WWE. Please give us more.
Due to the nature he's been built up, and because Big E has been floundering, I'm going for a win for Bad News Barrett. His character has been working the last few weeks, and I can see him turning face soon, maybe in a Ziggler esque fashion, but first he needs the belt.
Prediction: Wade Barrett Wins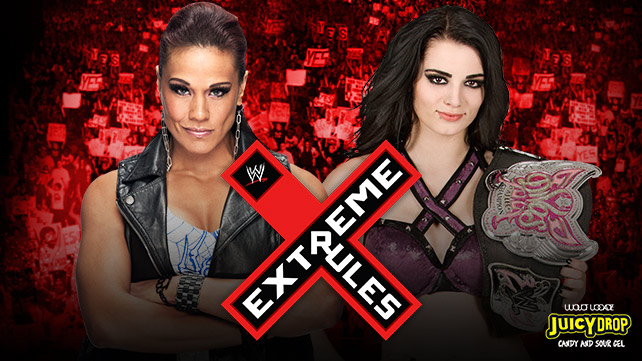 WWE Divas Championship
Paige © vs Tamina
Another cool thing that happened on The Raw after Wrestlemania, with an NXT debut, was the loss of AJ Lee and her Diva's title to Paige.
Paige. Is. Brilliant. The Queen of Norwich has been superb and is a worthy holder of the title. She isn't a model, she's a wrestler. She's the sort of girl who will get the date of her title win tattooed on her, she cares that much. She's champion, and she should be allowed to run with it.
This begins with a match against Tamina. I cannot see Paige's title run ending early, so going to pick her to defend the title.
Prediction: Paige Wins
Handicap Match
Alexander Rusev vs Xavier Woods & R-Truth
Another debut that was met with a luke-warm reaction was the debut of the big Bulgarian, Alexander Rusev. Accompanied with Lana, Rusev's debut smacks of the old WWE. He's employed because he's big.
This is a squash match. Rusev to win.
Prediction: Rusev Wins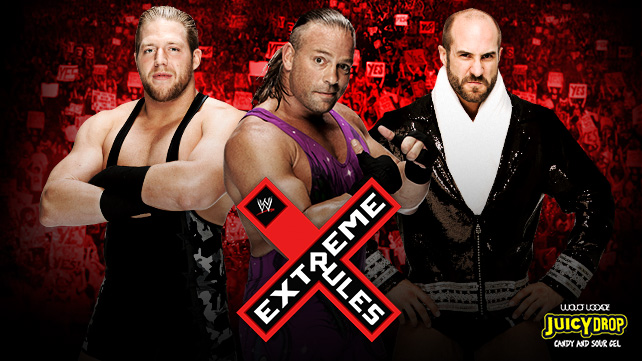 Triple Threat Match
Jack Swagger (/w Zeb Coulter) vs Rob Van Dam vs Cesaro (/w Paul Heyman)
So this match has been brewing since Wrestlemania when the Real Americans finally split up. Cesaro, however, rather than turning face, instead aligned himself with Paul Heyman. He's still super popular with the WWE faithful, and can see Heyman ending up a defacto face with Cesaro, and a heel with Lesnar. Obviously leading to a match down the line.
As such, I would let Cesaro win this. Swagger isn't being pushed, and RVD doesn't need to win. Cesaro – for his star to be born – needs to win matches like this.
Prediction: Cesaro Wins
Pre Match Show – WeeLC
El Torito (/w Los Matadores) vs Hornswaggle (/w 3MB)
So to give a preview of the Extreme Nature of the card (a card with one Extreme Match on it). We get a comedic match featuring a now heel Hornswaggle and El Torito.
The only thing I'm not sure about is Hornswaggle chest tattoo. Is it real? I cannot tell. Either way, Torito to win. I think. And me not caring.
Prediction: El Torito Wins
Anyway, there's my predictions to a fairly lacklustre show. What are your thoughts? Let me know in the comments below!