Hello again! Welcome to another round of Wrestling Bettings' Predictions, this time for the upcoming Extreme Rules Pay Per View, which emanates from St. Louis, Missouri. From our Wrestlemania predictions, we did okay, with Ryback being the crucial loss (welcome to the shitlist, Ryback).
Ironically, Extreme Rules is traditionally one of the easiest cards to predict, as the "Extreme" nature of the main events mean that there rarely is any battles that go to a disqualification or count out, as such, there is one less "out" for challengers, which makes it easier to predict. With that said, the Road Since Wrestlemania has been a little bit rocky, and a few matches, angles and real life events have thrown a few spanners in the work, and this could change. Here's El Jugador's predictions for WWE Extreme Rules 2013.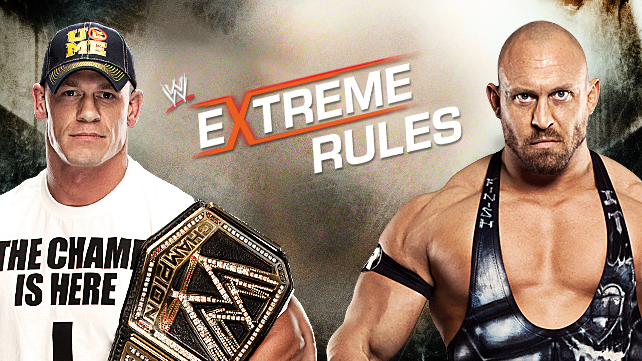 WWE Championship – Last Man Standing Match
John Cena © vs Ryback
One of the other things to come out of the night after Wrestlemania was Ryback turning heel. I'm not sure I agree with that decision as by and large a lot of apathy has developed around somebody who, at times, was booked to be the next big thing. Nevertheless, what is done is done, and commendably WWE did a great job at explaining the heel turn, having everything be held up as being watertight.
This match does depend on Cena's injury, which is now really no longer being mentioned. If Cena is legitimately injured, then a Ryback victory could set up the road to Summerslam for Big Hungry. However, I can't see him winning, as Cena has just grabbed the strap. The man who last won on Pay-Per-View at Money In The Bank vs Tyler Reks gets weaker again.
Prediction: John Cena Win
#1 Condership to the World Championship – I Quit Match
Alberto Del Rio vs Jack Swagger
As a purist, and a wrestling fan, the Monday night after Wrestlemania was superb. Careers were changed overnight, and one of the most memorable moments was Dolph Ziggler cashed in his Money In The Bank to win the World Heavyweight Championship.
Since then, Ziggler was booked so far into a corner he suffered a concussion and has been ruled out of the semi main event. As such, this match is now a rematch from Wrestlemania, without a belt on the line, but instead it's an I Quit Match. The Patriot lock versus the Armbar.
Even thought Del Rio, whilst solid, is as dull as dishwater at the moment, I still think he will win. Unless Ziggler comes back as a face, I cannot see Swagger winning. Del Rio to win.
Prediction: Alberto Del Rio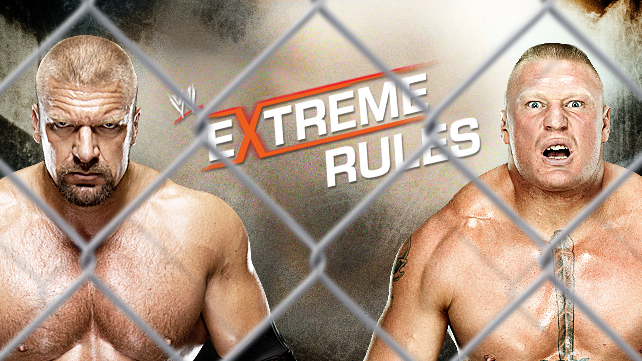 Steel Cage Match
Brock Lesnar vs. Triple H
Lesnar needs a win.
It appears as though Lesnar is being kept around for a little while, so having a strong Lesnar for Cena & faces to fight against is a necessity. Coupled that with the fact Triple H isn't around much, then in theory you'd want to keep Brock Lesnar strong and for him to get the win in this rubber match between the two former champions.
Again, a bit of a nothing match. Why should Triple H fight Lesnar again when he already won with his career on the line? Interesting point made by Heyman though in the build up – Lesnar's 2 losses have come when there have been steel steps involved, in a Steel Cage match, there are no steps. Mentioning that does seem to suggest a Lesnar loss, but I'm going to go for him to win instead.
Prediction: Brock Lesnar Win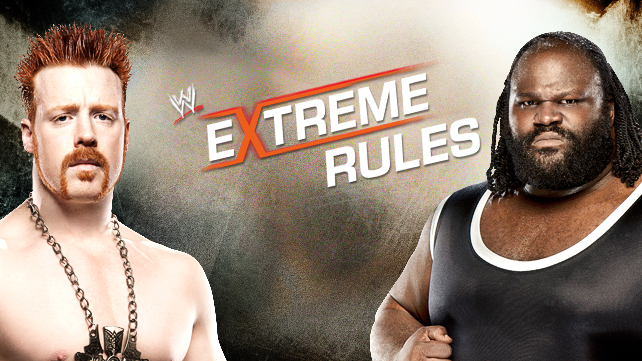 Strap Match
Mark Henry vs Sheamus
A match that has been sold on the pure and simple reason that Mizark has been on rare form recently.
This match started as fallout from Wrestlemania: Mark attacking Sheamus backstage on the Youtube Channel. Since then they have been interfering in each other's matches, and it hasn't been too bad a build up. Makes sense, and Mark has made it entertaining.
I kind of think this match's result depends on the main event. If Cena wins then he needs a high tier midcarder to feud against whilst Ryback gets his heat back. If Ryback wins then he needs faces to fight against and look strong against before Cena's return. As I don't think that Cena's injury is that bad, and Mark Henry is an experienced hand and probably could work around Cena's bad leg, I'm going for the former.
I'm going to go for Henry for the win, and for him to feud with Cena until Summerslam.
Prediction: Mark Henry Win
Extreme Rules Match
Randy Orton vs. The Big Show
So there was a turn in the match at Wrestlemania (like I predicted!) but it was the wrong person. Blandy Orton, who is in desperate need of freshening up, was the one who got attacked by a heel turn Big Show, who has turned more times than a poorly cooked steak, turned heel.
I am tempted to say a Randy Orton win for this. Recently Show has been attacking Orton loads, so it'd actually make storyline sense if Orton wins. Furthermore I've picked the heels going over in most matches, so Orton to win methinks.
Prediction: Randy Orton Win
Chris Jericho vs Fandango
Another one I cannot call. Fandango ship has sailed I think, thanks to pushing it down our throats, and the fact that Jericho got a massive beat down towards the end of this week's Raw, suggests that Jericho will get his win back.
It's a coin toss, but I think they are losing faith in Fandango already. Shame.
Prediction: Chris Jericho Win
United States Championship
Kofi Kingston © vs Dean Ambrose
It took six months, but finally, The Shield are knocking on the door of Championships. Two championships in particular, with Dean Ambrose challenging Kofi Kingston.
What do I want to see? Dean Ambrose winning and going on a nice long title reign to help promote the belt up a little bit. However, part of me is going to go with Kofi Kingston, and here's why.
The Shield have been booked stronger as a group. Singles they have lost matches and lost matches badly. As a unit, bar a meaningless DQ defeat, they have been strong, holding wins against both the main event competitors.
Prediction: Kofi Kingston
Tag Team Championship
Team Hell No © vs The Shield
Roman Reigns and Seth Rollins are representing The Shield in a tornado tag team match, which in theory is a no-DQ match. Linked to the above, as it's "The Shield", rather than individual members, I am predicting a Shield win.
I think it'll be a Dean Ambrose interference, or Team Hell No imploding. Finally? Hopefully? Maybe?
Prediction: The Shield