The granddaddy of them all – Wrestlemania.
It has been a fascinating build up to this year's Wrestlemania. So many times the road has deviated off into "meh" territory, but with a particularly strong run up to this point, it looks like being an interesting Wrestlemania, and maybe a few torches will change hands.
Also I'd like to take this opportunity to thank you for supporting this site for a whole year. It's been nice growing this community around the sport that I love, and a niche that I can be good in!
So without further ado, here's our Wrestlemania 30 predictions for the big one!
WWE World Heavyweight Championship Match
Randy Orton © vs. Batista vs. Daniel Bryan/Triple H
Well, this has been saved.
You see, up until a few weeks ago, the main event was Orton vs Batista. Which probably would've been the worst main event ever. With Batista blowing up and Orton not exactly setting the world on fire, this match was going to be probably one of the worst main events in Wrestlemania History.
And then they finally slotted Daniel Bryan in.
Bryan had been over. Over for weeks, ever since the Royal Rumble fiasco that made major news. The "Yes Movement" joining Bryan in the ring – demanding Triple H in a match so that if he wins he's in the main event was brilliant. People have done double duty before, but it's rescued a lacklustre main event.
With the office seemingly having confidence in Bryan again, this could be his moment that he becomes a superstar. With 80,000 fans doing the "Yes" chant, nearly 2 years after it first began, Bryan will finally get a credible showing at the Grandest Stage of them All. Yes.
Prediction: Daniel Bryan Win
Winner Advances To the Main Event
Triple H vs Daniel Bryan
As suggested above, I think Daniel Bryan will win and go to the main event.
Prediction: Daniel Bryan Win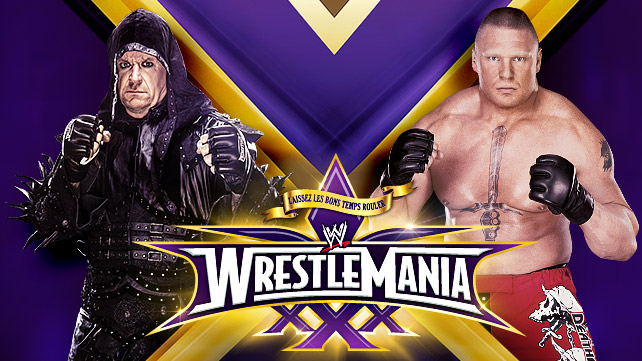 The Undertaker vs Brock Lesnar
And onto another fairly easy prediction for the card. The Streak.
This year's opponent is Brock Lesnar, a man touted at one point to beat The Streak. Brock is a phenomenal athlete, and has a pretty awesome record against The Deadman, and I'm liking this Taker/Heyman feud that seems to be most of the build up (Chicago on Raw was brilliant), and any other Raw/PPV I could see Taker losing.
But this is Wrestlemania. The Undertaker will go 22-0 at Wrestlemania. Put your house on it.
Prediction: The Undertaker Win
 John Cena vs Bray Wyatt
One person who left The Royal Rumble looking like a million bucks was Bray Wyatt. He has been superb recently, and by beating Bryan and laying out Cena, he goes into this with confidence. Sure Cena has had his way with Harper & Rowan, but Wyatt is a different kettle of cult fish.
Cena on the other hand finds himself in an odd position – nowhere near the top of the card. Sure he's probably in the highest focus match that isn't involving The Undertaker or the title, but it is an unfamiliar position for him. Nevertheless, this could be a sleeper hit on the card.
As for the winner? Well WWE has the opportunity to create a main event level heel in this match in Bray Wyatt. A win against Cena could see him rise to the top of the card. I can see him being the eventual successor to Daniel Bryan down the line, so it makes sense to keep him strong. Sorry John.
Prediction: Bray Wyatt Win
WWE Tag Team Championship
The Usos © vs The Real Americans vs Rybaxel vs Los Matadores
How the heck did Los Matadores get a focus match on this card?
Seemingly thrown together, this is probably the weakest match on the card. Sure it contains the Over-As-Rover Cesaro, who could have a great post Mania 2014. However, it just seems a little thrown together.
As such, I think the champions are going to leave with the belts they came in. They did a few of these in Mania pasts, and champions invariably leave with the belts. If the WWE fancies being brave, they could hotshot the belts, but I cannot see that happening with Matadores a novelty act, Rybaxel a nothing team and The Real Americans destined for a breakup. Usos to win.
Prediction: The Usos Win
The Shield vs The New Age Outlaws & Kane
How the heck did The New Age Outlaws get a focus match on this card?
It seems baffling that a team that was purely used for occasional spots earlier this year not only became champions, but are also in a match with Kane at Wrestlemania.
The Shield have had an off again/on again relationship, which appears to be all on the same page now. Roman Reigns push has been cooled slightly, whereas Seth Rollins has been getting a lot of traction as a babyface.
I'm not sure about this one. They've been teasing splits for months but I don't think it will happen. Do The Outlaws & Kane deserve to go over? Probably not, not in this stage of their career especially with Kane winding down into his insurance business (check it out, some of the flyers are online), so I'm going for The Shield, with break up down the line.
However I really wouldn't be surprised if this match is like the Ryback/Mark Henry match from last year.
Prediction: The Shield Win
Andre The Giant Memorial Battle Royale
And so to probably one of the harder matches to predict on the card, the Andre The Giant Memorial Battle Royale.
Battle Royale's were staples of Wrestemanias in the past, popular for getting as many people on the card and that big Wrestlemania payday as possible. Although not as popular as they once were, they are still quite nice and appreciated on the card.
So who's going to win? Well it's tricky to say, as there is so much average talent in the match. Sure you have Sheamus, Del Rio, and The Big Show, but I cannot see any of them winning it. Bar Sheamus. Maybe.
So my prediction is Big E. He seems like the best place to be the first winner of the Andre The Giant Memorial Battle Royale in terms of actually needing it. Maybe a heel, but screw it, let's go with Big E for now.
Prediction: Big E Wins
Vickie Guerrero Diva's Championsip Invitational
And so the Diva's get on with a "Championship Invitational". AJ Lee is so much ahead than every other Diva in terms of character at the moment that I really am struggling to think of a Diva to beat her to get to the top of the tree.
Sure, Naomi or Tamina seem like they could be interesting winners, and slightly different, but with rumours of Paige being positioned to join the main roster, I am going for an AJ retain.
Prediction: AJ Wins
These are my predictions for Wrestlemania 30, but what about yours? Leave your thoughts in the comments below!