WrestleMania is due to be held in little under a week in the MetLife Arena in New Jersey. Easily the biggest pay per view in WWE's calendar, and actually one of two pay per views I avoid spoilers to watch the next day. It is absolutely fantastic, and no matter how many times that the build up can be disappointing, it rarely fails to deliver. WrestleMania is what wrestling fans live for all year.
But you don't need me to tell you that.
This year's Wrestlemania though has been dismally built up. I can't pick a match that I'm looking forward to and say – "Yes, I want to see that match". In truth, it's dull at the moment. Switching to 3 hours for WWE Raw has really hurt the product, as it's too long and too much time to invest into something. Most movies aren't 3 hours, and having to invest 3 hours every week is hard to keep interested. Nevertheless, I'm looking forward to Wrestlemania more as a spectacle, rather than any matches.
Without further ado, here are the predictions from El Jugador. The betting tips for Wrestlemania 29 will follow later this week.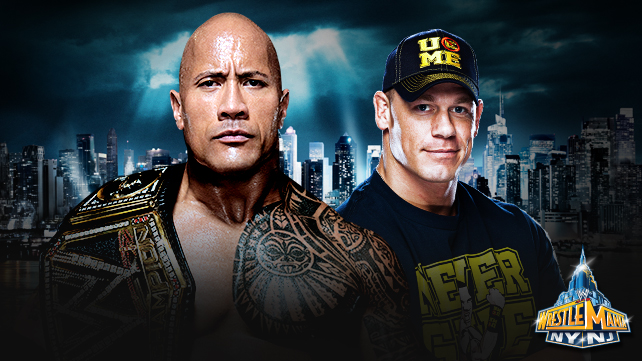 Once Twice in a Lifetime: The Rock © vs John Cena (WWE Championship)
The headline match for this year's WrestleMania is a repeat of last year's WrestleMania, which I believe is the first time that a WrestleMania main event (as in the traditional sense the match that is on last) has repeated itself, and especially after last time. It's made a mockery of last year's "Once in a Lifetime", if I'm honest.
Anyway, thankfully, the build up has been better than last year, with John Cena the chaser to The Rock's championship. Although it's hard to believe, but Cena hasn't held the championship for nearly two years. You wouldn't think it, as he's been all over the main event scene, fighting such luminaries as Johnny Fucking Ace.
There is no way John Cena isn't rolling into the Raw after WrestleMania as the WWE Champion. I was so surprised when Cena took the fall for The Rock after last year, so I believe this year Cena is getting his win back. It has been a better build up, with a twinge of respect between the two competitors,  and hopefully the match will be pretty good.
But yes, Rock will be beaten, pass the torch onto Cena (10 years after ascending to the main event scene in WWE), and return to make sparodic appearances. Where WWE goes after WrestleMania will be very, very interesting. There's only a small group of heels that look even remotely strong (CM Punk being only one of four), so it'd be interesting to see what happens.
Prediction: John Cena Win
Best Current Odds:   1/10 On Both William Hill & Paddy Power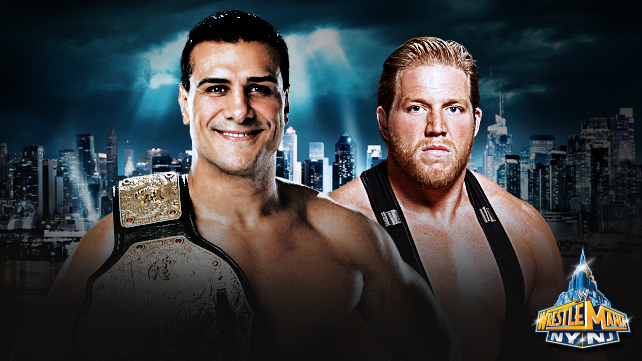 Alberto Del Rio © vs Jack Swagger /w Zeb Coulter (World Championship)
A feud that has blown hot and cold recently, Swagger must be counting his lucky stars he sealed his main event slot. A gentleman that was largely forgotten after Royal Rumble, Jack Swagger was given a manager in the fantastic orator Zeb Coutler, a fantastic gimmick as a Tea-Party member, and pushed to the moon, winning the Elimination Chamber to set up a match against Alberto Del Rio.
Questions were asked when he was arrested for being DUI, but he survived thanks to Glenn Beck, an ultra-conservative radio DJ, taking issue with Jack Swagger's character, saying that people who take offence to Mexicans living legally in the United States aren't racists, and all of a sudden they received a boat load of mainstream media, the drug that Vince McMahon lives for.
And then, it's kind of died down. Zeb Coulter has still been fantastic, and both Swagger and Del Rio have been picking up wins, but rather than have anything overly heated to build on tensions, feuding has been largely fought with jokey video packages. Eurgh.
I'm predicting a Swagger win here. Del Rio has been surprisingly interesting as a face, and a good face needs to chase the champion. Swagger to win, and become more obnoxious until Summerslam, where Del Rio will reclaim the championship surrounding by many of his Latino fans.
Prediction: Jack Swagger Win
Best Current Odds: 9/4 on William Hill & Coral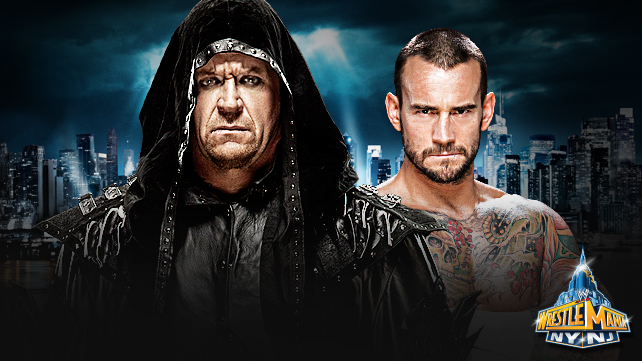 The Undertaker vs CM Punk /w Paul Heyman
This is one match I want to see.  And probably the only opponent that will finally get the vocal male majority to boo CM Punk.
Punk has been on a hot run for nearly two years, reinventing his character time and again, and generally respected by all who meet him. Then again, he does have an obnoxious prick side to his character, but after taking the piss out of the dead (Bearer) the dying (Lawler) and countless others, I'm pretty sure that CM Punk will never be universally hated.
Unless he breaks the streak.
Undertaker's 20-0 Wrestlemania Streak is probably one of the most cherished things in wrestling, in that no matter what changes, The Undertaker will still have his streak. CM Punk was probably going to be the best match Undertaker could have at Wrestlemania, in terms of quality of opponent (CM Punk is one of the top heels in the business), but also in likelihood of the match being decent (Punk could carry and protect the aging Undertaker better than, say, Brock Lesnar). In fact, Taker's aging years is the perfect foil for the young upstart CM Punk. Undertaker has been seen as being frail and humble (especially in paying respect to Paul Bearer) and less of the Phenom we have known. CM Punk has just, well, been CM Punk. Stealing the urn was a masterstroke, and it changes the feud from "Can anybody beat the streak?" to "Can Undertaker get revenge.". It takes the focus of the streak, which is great, as the streak is never really in a huge amount of danger.
The only unfortunate thing about the feud was that it's only really been ignited after the tragic passing of Paul Bearer.
The streak won't end with CM Punk in my opinion.  The Undertaker may be high on him and it would be an incredible rub for the Second City Saint, but I feel that Undertaker's streak needs to be protected.
Prediction: Undertaker Win
Best Current Odds: 1/12 on Paddy Power

Brock Lesnar /w Paul Heyman vs Triple H
So let me get this straight – Triple H comes out of retirement to face Brock Lesnar in a match, that if he loses he must retire. Correct?
One thing that WWE has been pretty good with is honouring retirements. Ric Flair hasn't wrestled in the WWE since his send off, as neither has Shawn Michaels. I truly cannot see Triple H getting back in the ring after this match. He has openly stated in interviews that he doesn't have the same fire as before, and I think his role as COO could see a few nice changes to the company. Lord knows somebody needs to get a bit of direction into the company following the past year or so where WWE has been poor.
The build up has been very meh. It's not been a disaster, but it's not been amazing, if I'm honest. Fired up promos from Triple H and Paul Heyman have helped this issue, along with Brock Lesnar just being, well, Brock Lesnar.
But it's another rematch. Triple H does bring his top game at Mania, but expect him to be pinned, particularly as the No DQ element eliminates the match being thrown out or one participant to be disqualified. Brock Lesnar to win.
Prediction: Brock Lesnar Win
Best Current Odds: 3/1 on Coral

The Big Show, Randy Orton & Sheamus vs The Shield
Hands up who predicted that The Shield would win at Elimination Chamber against Cena? No. Me neither.
Here is one of those matches that are thrown together a little bit, similar to the 10 man tag from last year's Wrestlemania. Nevertheless, this match has had an okay, if muddled build up. The issue was Ryback, who was in this match, but is now at the time of writing scheduled to face Mark Henry at Wrestlemania (though Mark Henry is injured). In his place is The Big Show, who has turned from heel to face, once again, for the 90 millionth time. Seriously, I know wrestlers who work on the British Circuit who have turned less.
I can't predict this. My heart says that The Shield need to be kept strong. They do. At the moment, with the exception of CM Punk and Brock Lesnar, there aren't that many strong heels on the roster. The Shield could be five strong heels, but you cannot be a good heel if you keep losing. A win, cleanly, against three marquee names in the WWE, could push them up to almost main event status. But my head says that WWE will – stupidly – get them to lose clean to Team WWE to make the fans happy.
Could expect a screwy finish, with the faces snapping and attacking The Shield with chairs, or a possible Randy Orton heel turn, so I'm going to go with my heart.
Prediction: The Shield Win (though wouldn't be surprised if they didn't win)
Best Current Odds: 2/9 on both William Hill & Paddy Power

Mark Henry vs Ryback
So in all likelihood this match is going ahead.
Genuinely confused with the booking for this match. I mean, it made sense as soon as Menry returned from his latest injury, and I'm not denying that. It's why Ryback flirted with The Shield match, only to be taken out by Teddy Long to face Mark Henry. Seems daft really.
I think this match, which will be unspectacular, may produce the "Wrestlemania Moment" for this year. And that moment will be Ryback lifting Mark Henry up into the Shell Shock, doing that ridiculous goose step, before dropping him. Ryback needs to win this as he's lost so much momentum since losing for the first time, and Mark Henry isn't as injury free as he'd like to be.
Prediction: Ryback Win
Best Current Odds: 2/9 on both William Hill & Paddy Power

Tag Team Championship – Team Hell No © vs Dolph Ziggler & Big E. Langston /w AJ Lee
Part of me thinks Dolph Ziggler leaves Wrestlemania with two belts.
I did predict Jack Swagger was to win the World Heavyweight Championship at Wrestlemania, and a heel probably should leave Wrestlemania with the World Title, but if Swagger is to not win it (and – thanks to his lack of punishment for his DUI – it's not guaranteed) then Ziggler could cash in his Money In The Bank briefcase against Alberto Del Rio, pick up a win, and then be the lead heel for the year on Smackdown.
If they are to go with this, then expect a screwy finish, maybe a DQ, to get Ziggler out of the tag team title picture and into the main event scene. However I think it is a bit of a stretch, and as such I can see Dolph & Big E. winning the titles, with Hell No possibly splitting finally after the tease they've been running for months.
Prediction: Dolph Ziggler & Big E. Langston Win
Best Current Odds: 5/6 on Paddy Power

Chris Jericho vs Fandango
At the time of writing this, we're one week's worth of television away from Wrestlemania, and Fandango hasn't wrestled a match yet. And this got me thinking.
How many wrestlers have ever debuted at Wrestlemania?
I'm not talking about "Wrestlemania Debuts", such as Brock Lesnar in Wrestlemania 19 or Undertaker in Wrestlemania 7. I'm talking about actual debuts. And yes, I am well aware that Johnny Curtis wrestled on Smackdown on 2011.
Even if he has a squash or tune up match the week before, he's thrown into a great match – Chris Jericho, who 10 years ago fought Shawn Michaels in one of my favourite Wrestlemania matches ever, and  last year fought CM Punk in a great match. Jericho though is a busy boy, and is firmly a part time wrestler at the moment, so I can see him losing to Fandango. Rubbish gimmick aside, if given time, I can see this be a pretty watchable match.
Prediction: Fandango Win
Best Current Odds: 2/7 on Paddy Power

Intercontinental Championship – Wade Barrett © vs The Miz
Meh.
Wade Barrett frustrates me. Or rather the booking of Wade Barrett frustrates me. His summer programme when he debuted in the WWE was superb, and part of me did expect him to win the big one a few years ago against Randy Orton. Yes injuries did slow him down a little bit, but I did expect him to do well. And even the programme that began at the Royal Rumble against Bo Dallas has appeared to be pulled.
Instead we get Barrett vs The Miz. Joy of pissing wonderful joys.
I've really not been a fan of The Miz since he turned face. He just seems so forced, and lost a lot of that zip he had as a heel. He should've turned leading into Wrestlemania last year, when fans wanted him to turn. Instead they waited just that little bit too long, and it affected him.
Really can't call this one. Hoping for The Miz, if only if it pushes Barrett onto bigger and better things.
Prediction: The Miz Win
Best Current Odds: 4/9 on Coral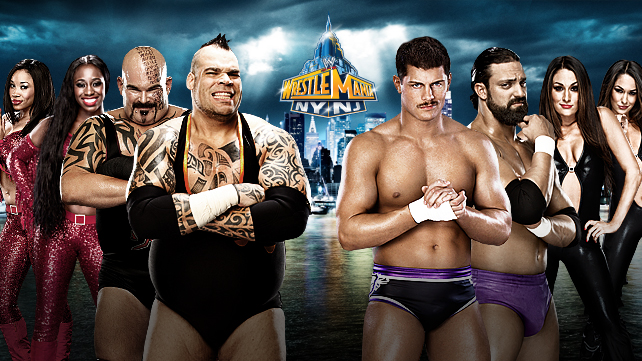 Brodus Clay, Tensai, Cameron & Naomi vs Rhodes Scholars (Cody Rhodes & Damien Sandow) vs The Bella Twins
The other traditional multi tag match is this match featuring Brodus Clay and his troupe vs Rhodes Scholars & The Bella Twins.
Again, another match I really don't care about. Rhodes Scholars are being wasted, and I quite enjoyed their fairly unique "split" which was simply "We fancy singles competition". Brilliant. However they are once again back together. Could this be used as a way to set up a Rhodes vs Sandow feud? I don't think so, as neither are particularly likeable characters. As such, I'm going to go for a Rhodes Scholars & Bellas victory, in a match that'll be slightly longer than a trip to the bar.
Prediction: Rhodes Scholars & The Bella Twins Win
Best Current Odds: 9/4 on Coral

I will be watching WrestleMania the day after in Fab Café, Manchester, on Monday 8th April. If you want to watch it live then HXC Wrestling is having an after debut-show party in the MMU Student's Union. I'm going to the show, just not WrestleMania after.
I will back later in the week with my bets, and do get them please subscribe to my email list below. But what are your predictions? Leave comments below, I'm keen to hear them!