So one really nice development in recent months since the introduction of the WWE Network has seen the amount of Pay-per-views and network specials increased. Of course, the most well known of these has been the introduction of NXT Takeovers, some cracking shows featuring the developmental talent in NXT. Now the bookmakers have taken a view on it, and are now offering bets for the NXT shows, starting with NXT Takeover this coming Saturday. So this weekend could be a profitable one.
NXT is in a state of flux recently, with a lot of new talents coming in, and a few getting called up. As such, this could be an easy card to predict. So these are my NXT Takeover Brooklyn Predictions.
NXT Heavyweight Championship Ladder Match
Finn Balor (c) vs Kevin Owens
Kevin Owens gets his rematch following the absolutely fantastic match between him & Balor at Beast in the East, that saw the former Fergal Devitt become NXT champion.
Owens isn't quite the unstoppable monster he was when he debuted on the main roster, dropping down from a feud with Cena to a feud with Cesaro, which I think may happen at Summerslam the next night. All in all, it could be a busy weekend for the Montreal native. However, I've a feeling that Cesaro vs Owens may not occur at Summerslam, and give this match the billing it deserves.
It seems so obvious this match, the former champion returning to NXT to have one last battle with the current champion, I feel this match could be the send off for Owens to go to the main roster. There have been photos of Owens carrying the strap at tapings, but feel this could be a ruse. Balor to win.
Prediction: Finn Balor wins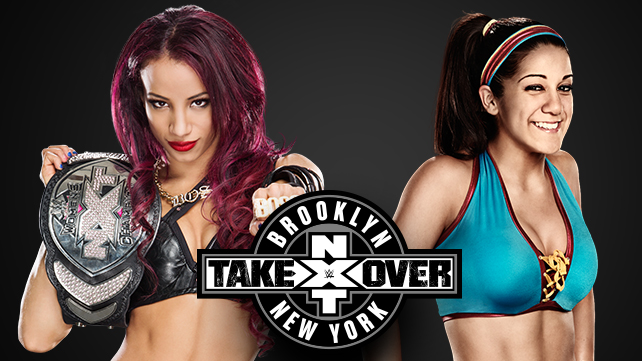 NXT Women's Championship
Sasha Banks (c) vs Bailey
As well as Owens recently getting called up, somebody else who got brought up were three of the "Four Horsewomen": Sasha Banks, Becky Lynch & Charlotte.
With the divas getting more time again, Sasha and Becky have been splitting their time between NXT and the main roster. However I can see this match also being the swansong for The Boss before she rockets to superstardom on the main roster.
Bailey as well is going to be a superstar, she is exactly in the demographic WWE have trouble hitting – the young girls. I can see her winning this hard fought battle, and leading the next generation of the NXT Women's division.
Prediction: Bailey Wins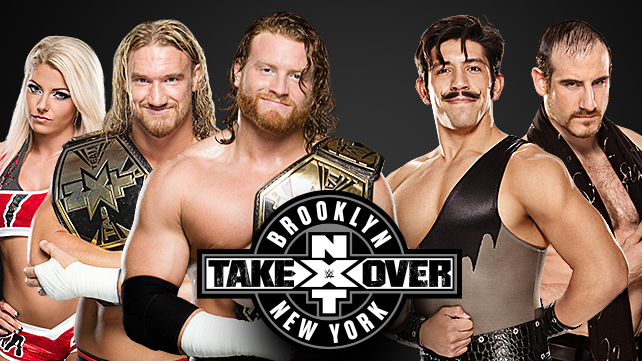 NXT Tag Team Championship
Blake & Murphy (c) vs. The Vaudevillians
So recently Blake & Murphy introduced their secret weapon: Alexa Bliss, who is wonderfully evil. She has some of the most brilliant facial expressions, and has been recently getting under the skins of The Vaudevillians.
I like The Vaudevillians. I love their old school t-shirt, I love the entrance, but they're a bit one dimensional. Nevertheless, they look to be bringing in a counter to Alexa Bliss. I cannot see them winning this though, even with the counter. Blake & Murphy are probably going to be in NXT for a while, as I'm not 100% convinced about them yet. But somebody seems high on them, Blake & Murphy to retain.
Prediction: Blake & Murphy Wins
Jushin Thunder Liger vs Tyler Breeze
So the next great pub quiz debate: "Who is the greatest wrestler to never wrestle in a WWE ring". For a long time the greatest was Sting, and it was universally recognised as such. Since Wrestlemania 32, there has been a bit of a debate, but one of the first names mentioned has been Jushin Thunder Liger. Not anymore, as he makes his NXT debut against Tyler Breeze.
It really shows that NXT isn't just a "rookie" league, as having such a high caliber wrestler on the card will elevate the card, and Tyler Breeze will get a hell of a rub. He'll lose, but it'll be a hell of a rub.
So, let's return to the question at hand. Who is now the best? Has The Great Muta ever appeared in a WWE ring?
Prediction: Jushin Thunder Liger
 Samoa Joe vs. Baron Corbin
Now this is interesting.
Corbin recently turned heel. The crowd were really beginning to get on his back, as he is woefully one dimensional. Nevertheless, somebody seems to like him, as he has been protected on his undefeated streak.
His opponent for Saturday? Samoa Joe. I recently saw Samoa Joe in PCW on what seemed to be a bit of a farewell tour for him, before committing to WWE full time. I'm tempted to say Joe will take the fall here, not without shenanigans, as the End of Days does appear to be the most protected finisher in the WWE right now. Yeah the crowd will shit on this outcome, but I don't think the office will mind.
Prediction: Baron Corbin Wins
So it looks like a very watchable card, as well as all this, you've also got the debut of Apollo Crews (the former Uhaa Nation), which will be a sight to behold. These are my predictions, what are yours? Leave them in the comments below!
Summerslam Predictions will probably be up in the next day or two, followed by betting tips for NXT Takeover on Friday (probably) and Summerslam Saturday.