So Pay Per Views are coming thick & fast again, aren't they? Doesn't seem like few days since Night of Champions, which wasn't a massive success – WWE went with the surprising result of a screwy finish in both their title matches, which meant that it wasn't a profitable evening. However a few of you lumped the lot on a Axel/Heyman win, which saw a decent return. Some of you got it on at 4/1!
Also there were reports of bets shifting late in the day. Axel/Heyman became odds on favourites quite late in the day, same with Bryan too. Also it was the first Pay Per View that removed accumulators, which was odd. Rest assured that when we make predictions we put bets on at the same time. As such, I recommend you sign up to the newsletter where you get the predictions within 24 hours of them being made live on the site, or follow @WrestlingBets on twitter and you get them instantaneously.
And so, on with the predictions! Again, these are just predictions for what I predict will happen at Battleground 2013. If you want Battleground 2013 betting tips, they will be available later in the week.
WWE Heavyweight Championship
Daniel Bryan vs Randy Orton
So yes, Daniel Bryan is a 2 time WWE Heavyweight Champion, after beating Randy Orton clean at Night of Champions. However the title was held up, with a fast count from referee Scott Armstrong. Armstrong implied that Bryan had something to do with it, but Bryan was completely clueless. As such, the title was held up.
Orton has since become more violent, putting The Miz on the shelf in the best thing that The Miz has done since his title reign. Bryan has not been alone, with the locker room slowly getting behind him. We have now a compelling storyline.
In this match, I can see Orton winning and taking the strap. You have Survivor Series next in a couple of months (thanks @Marc31Aug1986) and the Orton & Shield team could go up against Daniel Bryan and his team, giving more people the main event rub. Following that you have the Royal Rumble, which could see Bryan win and advance to Wrestlemania where he will defeat Orton to become champion. The way this storyline has been built up it needs a big payoff like that. I do hope it happens. And for that to happen Randy Orton to win.
Prediction: Randy Orton Win
World Heavyweight Championship
Alberto Del Rio © vs Rob Van Dam
In a feud that has taken a bit of a back seat recently is RVD's feud with ADR. Van Dam has been involved with the Shield/Orton feud so I can see him being elevated to that feud, especially after a strong run with The Shield. RVD makes the perfect opponent for Orton as it's a name, can take a loss, and probably have a decent match with Orton in the run up to Wrestlemania, as such I can see Del Rio winning again.
I don't really know what to do with the secondary title, but Del Rio needs the belt more than Van Dam at the moment. Del Rio to win.
Prediction: Alberto Del Rio Win
Ryback vs. CM Punk
And so, Ryback was the latest "Paul Heyman Guy" and made sure that CM Punk lost to Paul Heyman. As predicted on this here site! And so we're carrying on the Punk/Heyman feud. Which is no bad thing, as Heyman has been absolutely superb in this feud.
Going into this match, I fancy a CM Punk win, he has been on the losing end quite a lot in this feud and if there is (as predicted) a Punk's Team vs Heyman's Team at Survivor Series, then that'll be the nice blow off. Ryback can take the loss at the moment, but if Punk navigates Ryback then he can request the entire Heyman team (including Heyman) in a 4 v 4 or a 5 v 5 match.
Not sure what'll happen at Hell in the Cell, but we'll jump that hurdle when we get there.
Prediction: CM Punk Win
Cody Rhodes & Goldust vs. Seth Rollins & Roman Reigns
Somebody who has really improved recently has been Cody Rhodes. A half-arsed face turn has become a fascinating story involving him losing his job and his quest to regain it as his fight against the establishment. Helped by his brother – Goldust, and his dad – Dusty Rhodes, he's looking to return to the WWE through a battle with The Shield. But with one condition – if The Shield win, then Cody & Goldust AND Dusty lose their jobs.
The whole "writing off Cody for a wee bit" was due to Cody getting married, so I'm tempted to say that with the odds stacked against them, the Rhodes will win. The tag titles aren't on the line, and there could be shenanigans, so The Shield can take the loss. I just cannot see at the moment with Cody/Dust/Dusty effectively being written off TV should they lose how they can come back into the fold.
Prediction: Cody Rhodes & Goldust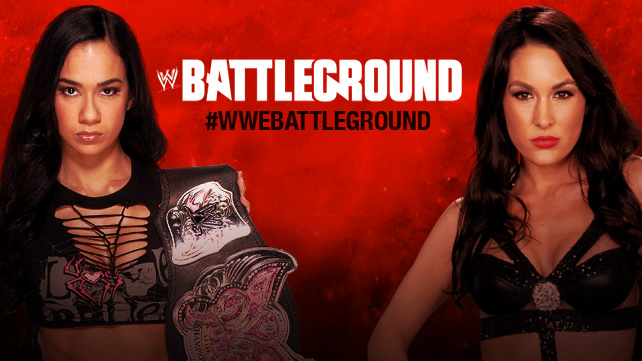 WWE Divas Championship
AJ Lee vs Brie Bella
And now we enter the realm of thrown together matches.
AJ & Brie has been largely thrown together. Sure they've been feuding for a while mainly by proxy, but now they have a match thrown together in the last week, and Brie has become a face. Why? Because she's engaged to Daniel Bryan.
Brie seems to be destined due to her connections and last week's Raw to be involved in the Daniel Bryan storyline, which part of me thinks that sets her to fail come Sunday.
WWE have a habit of not allowing arm candy to become champions, particularly faces. AJ Lee is still superb. She'll go over.
Prediction: AJ Lee
Dolph Ziggler vs. Damien Sandow
And now onto the Pre-Show. No real arguments about this, even if Dolph Ziggler must wonder who he has pissed off, Sandow is probably not going to leave with the W. Ziggler to get the win.
Prediction:  Dolph Ziggler
Those are my predicitons, but what are yours? Leave them below in the comments.